Peter Bagge Conquers New York (And Has Three New Books Out)
Reason's cartoonist genius Peter Bagge will be leaving his Seattle stronghold and blessing the people of New York with his luminous presence this week in multiple venues.
The weekend of April 8th—10th he'll be attending the MoCCA Comics Fest at Manhattan's Armory. Peter will also be doing a signing at the Desert Island comic shop on Friday the 8th at 7 p.m.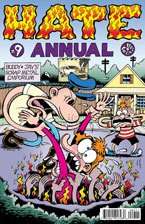 He is also now a gen-u-ine snooty New York City gallery artiste, as a solo show of Bagge brilliance will be held at the Scott Eder Gallery in Brooklyn the following evening, April 9th at 6 p.m.
Bagge has a lot to celebrate and talk about, with three new books coming out. He's promoting a brand new issue of HATE ANNUAL , as well as a brand new collection of YEAH!—a short lived and super charming all-ages title that Bagge created and wrote for DC, which was illustrated by Gilbert Hernandez of Love and Rockets fame. And that's not all! A new book collection of the weekly Bat Boy comic strips Bagge did for America's greatest journalistic achievement, the late lamented Weekly World News, has also just been released by IDW press
It'll be a Baggapalooza weekend! If you live anywhere near New York, check out one or all of his appearances. If you live on Earth, buy all three books.