The Surly Bonds of Jerry Brown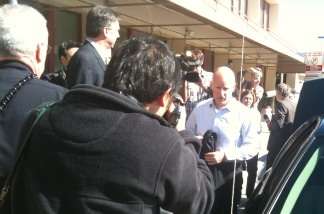 If you were among the millions moved when California Gov. Jerry Brown didn't get an upgrade to business class last week, John Wildermuth has some bad news for you. Writing at Fox & Hounds Daily, Wildermuth notes that Flying Southwest and cutting off state employee cell phone accounts won't do much to close the state's $25 billion budget deficit.
When Arnold Schwarzenegger was governor, he often flew across the state in his private jet, paying the tab from his own very deep pockets. Cost to the taxpayers: zero.

When Gov. Jerry Brown flew from Sacramento to Burbank last week to push his budget plan before the Los Angeles Area Chamber of Commerce, he flew by himself on Southwest Airlines. The bill for the state: $126 for the roundtrip fare (it's normally $160, but Brown gets a senior discount).

In this case, it's not the reality of the money but the symbolism of the plane ride that counts and there's no politician better at using symbols than Jerry Brown.

Newspapers across the state wrote about the speech, but they paid even more attention to Brown's mode of travel. "Thrifty governor charms Californians in coach" read the headline in the San Francisco Chronicle and no, there's not enough money in the state's coffers to buy that sort of publicity (Of course there's not enough money in the state's coffers to buy much of anything).
The problem isn't just that this kind of gesture is purely symbolic. The symbolism itself is open to question. Thirty-four years ago, Jimmy Carter ushered in his own era of frugality by walking to his inauguration. And look how that turned out.