Stirrings in the Great Socialist People's Libyan Arab Jamahiriya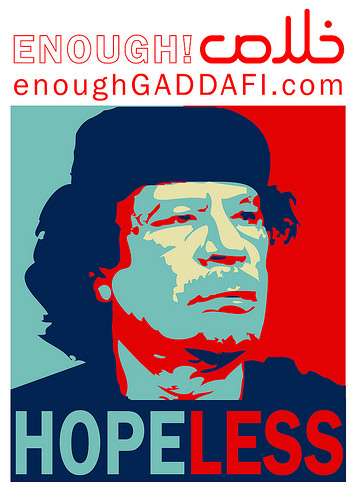 As Radley Balko noted in the morning links, anti-government protests have spread across the Maghreb and Middle East, with violent clashes in Iran, Bahrain, and Yemen, and both pro- and anti-government demonstrations are roiling the Great Socialist People's Libyan Arab Jamahiriya.
The Qaddafi dictatorship—widely and credibly believed to be behind the bombings of the La Belle disco in Berlin and Pan Am flight 103, and the target of a brief American bombing campaign in 1986—is no American stooge, though since the government handed over its nuclear program to the United States in 2003 and has loudly worked against the (anti-Qaddafi) extremists of the Libyan Islamic Fighting Group (LIFG), his more radical opponents have claimed that he has "sold out" to the United States. In what appears to be a concession to protesters planning today's "day of rage," the government released the remaining 110 LIFG members it held in a Tripoli prison. The anti-LIFG campaign, which claimed to rehabilitate for members of the al-Qaeda affiliated group, was the Qaddafi Foundation's show piece for Western journalists.
In other words, while everyone is hyperventilating about the peaceful protesters in Egypt being secret Qutbists, many of those flowing into the streets of Tripoli and Benghazi, as Al-Jazeera reported last night, are yelling that Qaddafi is an "American agent." And as the Financial Times noted, the protesters are also marking the anniversary of the "February 2006 [deaths] of a dozen demonstrators during a protest against the Danish illustrator who drew images of the prophet Mohamed."
Reports of casualties from today's clashes vary, with BBC saying that one person was killed by government forces, while Bloomberg claims "at least" 19 victims (using, it seems, Al-Arabiya as its source).
An opposition website and an anti-Qaddafi activist said violence broke out during marches today in five Libyan cities—Beyida, Benghazi, Zentan, Rijban and Darnah, according to the Associated Press. The 19 deaths were in Benghazi and Al-Bida, according to Al Arabiya television, which didn't say where it got the information. There was little confirmed information due to Libya's tight press restrictions. The government-controlled Libyan media presented reports of people praising Qaddafi, who has ruled since 1969 while tolerating no dissent.
A quick note about Libya's one-party, one-ideology press: The Internet, oddly, is not censored, which explains how all of this tumult could so easily be coordinated on Facebook. Indeed, Qaddafi "warned" citizens that they shouldn't access the social networking site.
The Los Angeles Times highlighted a video purportedly showing members of the army firing on a crowd of protesters, but it appears to have been removed from YouTube for a "violation of Terms of Service."
And this is very strange: I was going to recommend following the coverage at enoughgaddafi.com, a dissident website run by Libyan exiles that has proved a great source of video and other material from inside Libya. But while the cached version can be viewed here, the site now redirects to a Godaddy.com page.
I wrote a dispatch from Libya last year, in which I talked to former LIFG prisoners and marveled at the awesomeness of Tripoli's "modern" airport.