Let Me Be Beer: Play Along With Reason's Official 2011 SOTU Drinking Game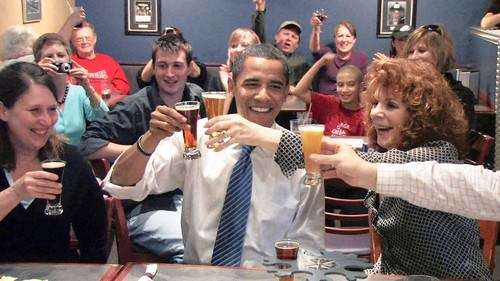 Another year, another State of the Union, that special time of year when the president of the United States America swipes a full hour of perfectly good prime-time to defend the stale political nonsense that defined the previous year—and preview all the fresh, new nonsense he's planning for the year to come.
Around Washington, you can almost smell the anticipatory hype, although that might just be because the sewer system is backed up. What's the president selling? What's the rest of Washington buying? Does anyone outside the Beltway care? Those who insist on tuning in to the boob-tube coverage of the president's yearly rehearsal of old talking points and new worthless initiatives will likely find cable pundits focused on the following questions: What will he say? What should he say? What must he say?
Here at Reason, we're more concerned with the question you really care about: When to drink?
The only way to get through a speech like this is with booze in one hand and a "drink-when-he-says" checklist in the other. By the time it's over, the state of your union will hopefully be more than a little inebriated.
Here at Reason, we'll be drinking to the following:
Feel free to drink in between, too, if you're so inclined. And be sure to follow along here at Hit & Run as Reason's editors live-blog the speech.
As always, this game comes with a disclaimer: Reason endorses drinking responsibly; how else will you know if the president is trying to pull one over on you?