Little Debbie on the Run in St. Paul With Pet Devil Dog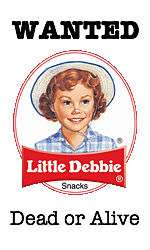 In St. Paul, Little Debbie is a wanted woman:
With a nod to their role in reducing the nation's high obesity rate, Minnesota's second-largest school district plans to fully enforce the ban on sweets.

Reminders have been sent to teachers, students and parents that "sweet, sticky, fat-laden [and] salty treats" aren't allowed during the school day, said Jean Ronnei, the district's director of nutrition services.
Amy Alkon points to this mommyblog post on the new rules, which defends bans on sweets:
But schools have dress codes and I don't think keeping cupcakes and Doritos out of lunches — for health reasons! — is any worse than requiring students to wear closed-toe shoes (for safety!)….this sweets ban isn't in service of someone's power trip or some kind of skirt-length morality measure. It's about health…
The parallel seems to be self-defeating. Dress codes are a perfect example of slippage between safety rules and restrictions on moral or aesthetic grounds. Closed-toe shoes make sense in a science lab, but skirt lengths and hair-touching-the-collar rules are about something else entirely. Is a total ban on Ho-Hos packed by mom for a skinny kid more like the former or the latter?
And here's is the sentence that shows up in every (honest) piece on this kind of ban:
The ban, which also includes fat- and salt-laden snack foods, isn't expected to dramatically lower the districts 40 percent obesity rate.
Taking snack cakes from the hands of tiny children is not actually going to make them better off. It's going to make them resent authority figures at school, doubt authority figures at home, and deprive them of small pleasures in the middle of a day at a school where they have already lost swings, tag, plastic pistols, and even cough drops.