AARP Blames ObamaCare for Hike in Employee Health Insurance Costs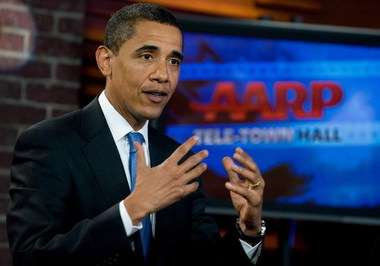 In 2009, the AARP argued that the health care law was a good deal for seniors. That remains to be seen, and a large number of seniors seem to disagree. Regardless, it appears it's less of a good deal for employees.
AARP's endorsement helped secure passage of President Barack Obama's health care overhaul. Now the seniors' lobby is telling its employees their insurance costs will rise partly as a result of the law.

In an e-mail to employees, AARP says health care premiums will increase by 8 percent to 13 percent next year because of rapidly rising medical costs.

And AARP adds that it's changing copayments and deductibles to avoid a 40 percent tax on high-cost health plans that takes effect in 2018 under the law. Aerospace giant Boeing also has cited the tax in asking its workers to pay more. Shifting costs to employees lowers the value of a health care plan and acts like an escape hatch from the tax.
A spokesman for the organization says that the law accounts for only a small percentage of the hike. It's probably true that the group's insurance premiums would have risen even without the law, though not as much. And there's a case to be made that the Cadillac tax, if it actually goes into effect, could be a first step—an awkward, imperfect first step—towards breaking the U.S. the employer-sponsored insurance system. But neither AARP leadership nor its rank-and-file employees can be enjoying this.
Indeed, the health care law has proven something of a headache for the organization from the very beginning. Leadership liked it, but membership wasn't as pleased. Last year, the AARP reportedly lost 60,000 members angered over the group's support of the health care overhaul. When CBS reported the loss in September, the AARP responded that they hadn't officially endorsed any plan. They also got touchy when the president said the group was on board, calling his statement "inaccurate." That was technically true at the time. But it wasn't inaccurate for long. In December of 2009, the group announced official support for the law. A letter from AARP CEO A. Barry Rand to Senate Majority Leader Harry Reid gave increased "access to quality affordable plans" for individuals and small businesses as one reason for the group's support. A representative for the group said in an August 2009 Washington Post live chat that its support was predicated on the fact that "health care costs are growing too fast for everyone." The law passed, but judging by its own employee insurance premiums, that doesn't appear to have changed.