The Perfectly Planned Sims City: Strangely Pyongyangish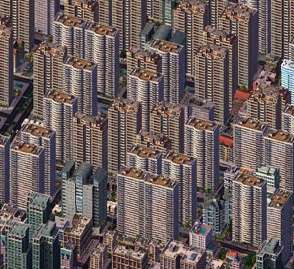 Here's a very funny Vice interview with the man who mastered Sim City, the urban planning computer game.
The Consumerist sets the interview up.
Vincent Ocasla says that in fashioning the "Magnasanti" metropolis, he has "beaten" SimCity by creating the max stable population of six million. It consists of four grids of identical 12 x 12 grids with everyone's workplace within walking distance. There are no roads, the city runs entirely on subways. There's zero abandoned buildings zero congestion, and zero water pollution.
Sounds utopic! But wait…
Technically, no one is leaving or coming into the city. Population growth is stagnant. Sims don't need to travel long distances, because their workplace is just within walking distance. In fact they do not even need to leave their own block. Wherever they go it's like going to the same place….

…The ironic thing about it is the sims in Magnasanti tolerate it. They don't rebel, or cause revolutions and social chaos. No one considers challenging the system by physical means since a hyper-efficient police state keeps them in line. They have all been successfully dumbed down, sickened with poor health, enslaved and mind-controlled just enough to keep this system going for thousands of years. 50,000 years to be exact. They are all imprisoned in space and time.
Also, no one lives past the age of 50. Bright side: Low health care expenditures!