Reason On the Tube: Tim Cavanaugh Talks California on the 10 O'Clock News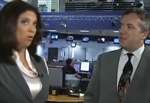 With California in the final stages of its torturous budget process, Tim Cavanaugh is appearing all week on the local news at Los Angeles' Fox 11 to discuss creative accounting, internal borrowing, deferred debt, fiscal hanky panky, and the battle over public sector pensions that is the real story behind the three-months-overdue budget.
The state Assembly passed the budget about an hour ago, and the state could have a signed deal by tomorrow.
Appearances so far:
Monday: How final is the final deal?
Tuesday: Are back benchers going to freak out when they see the deal?
Wednesday: We finally get a look at the plan:
Beatings will continue until morale improves, so if you're in L.A., tune in to the 10 o'clock news on Channel 11, not the 11 o'clock news on Channel 10. Clips are also available at myfoxla.com/, and will be posted here the following day.