Arnold's Final Grade: Gentleman's C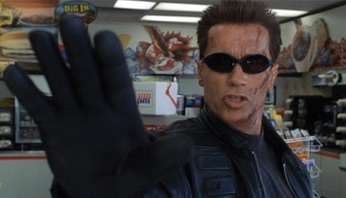 "Holding up the budget and vetoing bills are the only tools [Gov. Arnold Schwarzenegger] has got," Marcia Fritz, president of the California Foundation for Fiscal Responsibility, said a while back in assessing the Gubernator's executive strengths.
Schwarzenegger's extensive veto record is one of the best cases in his favor, and the recent end of his last legislative session has produced a mixed bag of No's.
Sen. Mimi Walters, Assemblyman Chuck DeVore and the Flash Report's Jon Fleischman—all Republicans—check back on their list of 20 must-veto bills, and give Schwarzenegger a score of 14 out of 20, or C.
Not all of Fleischman's must-vetoes are of interest to this crowd. (I'm not sure whether Mark Leno's SB 906, creating a statutory civil marriage class, would have changed much, but Schwarzenegger vetoed it.)
But there are some interesting examples of the mind-numbing bureaucratic cascades the Golden State has mastered:
AB 2032 (Davis) – From the Department of Redundancy Department—Requires underage actors, artists and other entertainers to pay a new fee, which the agency collecting the fee states is required to defray the costs of collecting the fee. VETOED—9/30/10

AB 424 (Torres) – This bill spends nearly $4 million over the next three years to educate the public on the uses of the 911 system. VETOED—9/27/10
And on the Yea side, California carpet buyers can rest easy in the knowledge that a new 5-cent-per-square-yard tax will keep the state's carpet recycling program fully funded:
AB 2398 (John Perez), aka the "Carpet Product Stewardship Act," imposes a $0.05 per square yard tax on carpets sold in California through 2013 (after which, the cost will likely climb) to fund a carpet recycling program. Interestingly, California's biggest carpet recycling company, Los Angeles Fiber Co., is in the district of the bill's sponsor, Assembly Speaker Perez. SIGNED—9/30/10
Stand tall, California!