Attn, DC Reasonoids: Come to a Viewing Party (If You Dare!) of Reason's Scary 3D Videos & 3D Mag on Thurs, Sept. 30!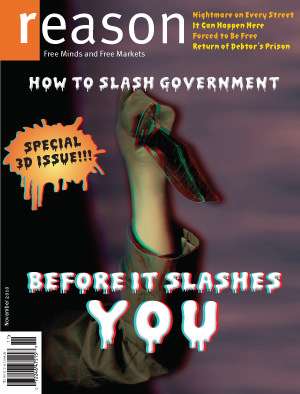 Reason magazine and Reason.tv are coming at you in terrifying 3D! The November issue of the magazine, going out to subscribers like so many wraiths as you read, features free 3D glasses and actual 3D graphics that spell out our Fiscal House of Horrors in ways that we hope will finally drive home just how out of control federal spending, debt levels, and public-sector compensation really is.
On Thursday, September 30, Reason.tv debuts three equally scarifying videos in living (or is that dying?) 3D. And a very special health warning message from none other than former senator and recidivist presidential candidate Mike Gravel.
Subscribers to the print edition of Reason magazine will automatically receive the special issue and complimentary Reason.tv 3D glasses. If you're not a subscriber, go here now to get your special issue so you can enjoy it and the videos in their fully horror!
If you're in the DC area, come join the staff of Reason and Reason.tv at our DC HQ for a special viewing party of 3D Fiscal House of Horrors. Space is extremely limited and RSVPs are required.
What: Viewing Party for Reason's 3D Fiscal House of Horrors

Where: Reason's DC HQ, 1747 Connecticut Avenue NW (near S Street), Washington DC. Take Metro to Dupont Circle North exit, walk north two block up Conn.

When: Thursday, September 30, 6.30 to 8.30PM

RSVP: events@reason.com Space is limited and RSVPs are mandatory.
Watch a trailer for Reason.tv's 3D Fiscal House of Horrors, if you dare!