L.A. Domino Effect Rolls Straight Into Compton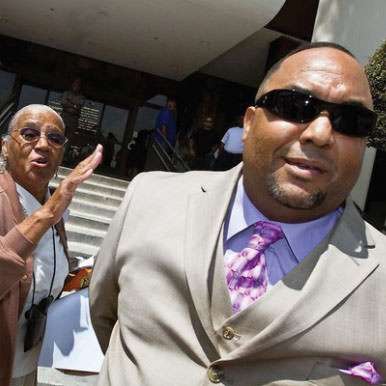 Never doubt that a man with a lavender tie and matching pocket hanky can change the world. Indeed, local activist William Kemp and a group of disgruntled citizens have launched a recall against the mayor and other officials in the L.A. County town of Compton.
Compton residents have served notices of intent to circulate a recall petition against Mayor Eric J. Perrodin, Councilwoman Lillie Dobson, City Attorney Craig J. Cornwell and City Clerk Alita Godwin. Details from the L.A. Times:
The notice of intent to recall charges that Perrodin misappropriated public funds by allocating bond money to cover anticipated startup costs for the return of the Compton Police Department — a move many residents oppose. The Los Angeles County Sheriff's Department provides law enforcement services to the city.

The recall proponents also charge that Perrodin used public funds to pay back companies and organizations that contributed to his 2009 election campaign. Perrodin awarded no-bid contracts to friends and family; misled residents about major revisions to the city's Charter; and violated residents' civil rights by using intimidation and manipulation to quiet dissent, the recall notice alleges.

The allegations in the recall petitions against Godwin and Cornwell include election process violations, and in Goodwin's case, failing to work full time while being paid in full. Her annual salary is about $110,750, according to the city.

The recall proponents are upset with Dobson for voting to bring back the Compton Police Department, and for approving water rate increases.
Although the situation in Compton is not directly related to the citizen revolts in Bell, Vernon and Maywood (Compton lays about 10 miles south-southwest of that cluster of towns), there is a pattern developing in the towns of southern L.A. County, in which local residents take stock of how much they're paying the government and how little they're getting in return.
It's also interesting that police services—usually an untouchable in any discussion of government cuts—are an issue in so many of these places. L.A. County's odd but seemingly effective Sheriff Lee Baca has managed to absorb police services in an increasing number of towns. (The L.A. Sheriff's Department does contract law enforcement for 40 of the county's 88 cities.) Compton's police force—made world famous by NWA in the 1980s—was disbanded in 2000, amid dueling corruption charges between the department and the impeccably named then-mayor Omar Bradley. The current city government's desire to bring back the department seems odd right now, given that crime rates in Compton have been moving in the right direction since the middle of the last decade and the town is struggling to maintain services.