Yet Another Underfunded Bridge Program Brought To You By ObamaCare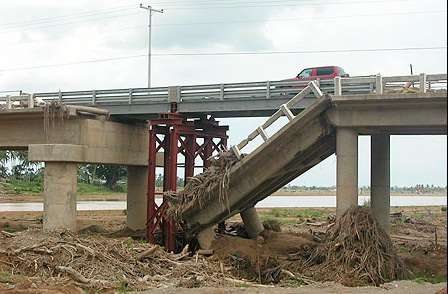 Earlier this summer, 18 states declined to participate in the PPACA's new network of high risk pools, which the Obama administration had hoped would be a bridge from now until the insurance exchanges are set up in 2014. The states' biggest gripe? Funding—too little of it. States like Virginia and Georgia didn't want to get involved with a program that might leave their residents with an unfunded liability. Just about every estimate, including the CBO and Medicare's chief actuary, estimated that the $5 billion set aside for the program would run out in early—possibly as soon as 2011.
But it looks like the high-risk pools weren't the law's only underfunded bridge. The Early Retiree Reinsurance Program, which is intended to encourage employers to continue to provide health coverage to retirees through a federally funded reinsurance program. As Health and Human Services Secretary Kathleen Sebelius explained it:
"The Affordable Care Act's Early Retiree Reinsurance Program will make it a little easier for employers to provide high-quality health benefits to their retirees as we work to put in place market reforms to lower costs for all," Sebelius said in a statement.
Or will it? As with the high-risk pools, there's a big problem: The program, which is supposed to bridge the gap between now and 2014, doesn't have enough money to actually last until 2014.
But U.S. Rep. Bill Posey said the program looks more like a shell game, and it could come up short financially. "The timing of this announcement by the administration is interesting because earlier this month Medicare trustees issued a report noting on page 183 that the new health-care law will result in nearly 6 million retirees losing their prescription drug coverage from their former employers—a fact that went largely unreported," said Posey, R-Cocoa.

Posey added, "Nowhere in today's HHS release is there a reference to HHS' own warning to retirees that this program is largely unfunded—by perhaps tens of billions of dollars.
A separate report from The Employee Benefit Research Institute estimates that the program's funds will dry up in the next two years. The problem here is not that these programs should've been given more money. It's that, like so much of what's in the PPACA, they were poorly conceived, designed to be passed quickly but meant to be fixed down the road when they eventually broke down. And most likely that will mean throwing extra money at whatever problems inevitably arise, despite the fact that the funding issues on both programs were foreseeable. Conveniently for advocates, that plan makes the programs look cheaper up front that they actually are. Ultimately, though, it's just a way of hiding their true costs.
(Thanks to Bob Vineyard for the links.)