If You Like Your Health Care Plan, You Can Start Beating Your Head Against the Wall Now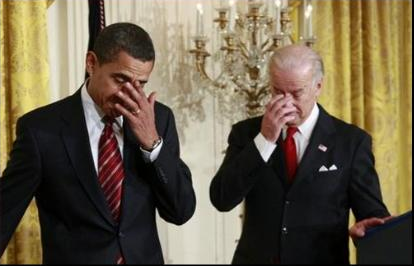 If you like your health care plan, tough luck—if you're on a Medicare prescription drug plan:
More than 3 million seniors may have to switch their Medicare prescription plan next year, even if they're perfectly happy with it, thanks to an attempt by the government to simplify their lives.

The policy change could turn into a hassle for seniors who hadn't intended to switch plans during Medicare's open enrollment season this fall.

And it risks undercutting President Barack Obama's promise that people who like their health care plans can keep them…."As a result of this policy, there are going to be fewer plans offered in 2011," said Bonnie Washington, a senior analyst with Avalere Health, which produced the study.
If you like your health care plan, better luck next time—if you're a college student:
Along comes word that the bill "could make it impossible for colleges and universities to continue to offer student health plans." That's how the American Council on Education and a dozen other higher-ed lobbies put it in a recent letter to the Obama Administration, warning that the insurance coverage they offer may get junked by ObamaCare's decrees.

Between 4.5 million to 5.5 million students annually are insured by short-term plans sponsored by their schools, which are tailored to upperclassman who have aged out of their parents' coverage or to international and graduate students. These plans are very low cost because the benefits are designed for generally healthy young people and often organized around campus health services and academic medical centers.

All of which means these plans aren't likely to qualify under ObamaCare's "minimal essential coverage" rules that mandate rich benefit packages, even if colleges have the flexibility to make exceptions for special needs. And given that insurance must now be sold anytime to everyone, colleges may be required to continue to cover students after they've graduated-leaving this type of coverage unaffordable.
If you like your health care plan, cross your fingers and hope you'll like your new one better—if your employer sponsored plan doesn't meet the law's strict grandfathering requirements:
While many U.S. companies initially hoped they could preserve much of their existing group health plans under the new grandfather provision, a new survey by Hewitt Associates, a global human resources consulting and outsourcing company, shows that almost all now believe they will not. Ninety percent of companies said they anticipate losing grandfathered status by 2014, with the majority expecting to do so in the next two years.

Under the "grandfather" provision of the U.S. Patient Protection and Affordable Care Act, companies can maintain many of their current health care coverage provisions and are required to make fewer changes to plan documents and administrative procedures in order to comply with the new law. Companies can lose their grandfather status if they take certain steps such as reducing benefits, significantly raising co-payment charges, significantly raising deductibles or changing insurance carriers.

According to Hewitt's survey of 466 companies–representing 6.9 million employees–most companies expect to lose grandfather status because of health plan design changes (72 percent) and/or changes to company subsidy levels (39 percent).
None of this is exactly surprising—at least if you've been paying attention. Any health system overhaul as sweeping as the PPACA was bound to upset existing coverage arrangements, especially given the dominance of insurance in American health care. But given how disastrous the possibility of forced plan changes proved to HillaryCare in the 90s, the law's supporters couldn't admit that. So President Obama and congressional leadership and the progressive activist class had to promise, repeatedly, that no one would have to change plans if they didn't want to.