Lunch in Government Cafeterias Pretty Gross, Lunch in Government Schools Much Grosser
Today The Washington Post publishes a hard hitting investigation into the food on offer in federal government cafeterias. Sample entry:
U.S. Department of Agriculture South Cafe—Grade: D

Sure, there was plenty that a PR guy could tout as healthful. There were 100-calorie snack packs, but inside them were processed cookies and chips. Calories were posted at the salad bar and the grill. But among the options were a cheese quesadilla with 780 calories and 53 grams of fat. Slices of pizza ($2.79) had whole-wheat crusts but tasted just like the school food the agency has vowed to overhaul. The salad bar (41 cents per ounce) was a throwback to the 1970s, with limp greens, mayo-laden tuna, baby corn and bacon bits….Of all the agencies we visited, the USDA should know better.
Most of the other sampled cafeterias offered similarly low-ranked fare, with the exception of Speaker of the House Nancy Pelosi's Longworth Cafe.

Last week also saw a press release from the Center for Science in the Public Interest (the same folks going after Happy Meal toys), talking smack about the Food and Drug Administration's cafeteria.
Hiding in plain sight in the FDA cafeteria—quite literally under the noses of the officials tasked with policing misleading labels—were at least three beverages with illegal claims on their labels.

The contraband drinks included: Purity.Organic Functional Drinks Pomegranate Blueberry. Its label claims it has "Ginkgo Biloba to enhance your memory and keep you thinking straight," but government-funded studies show ginkgo has no effect on memory and does not lower incidence of Alzheimer's or dementia, either.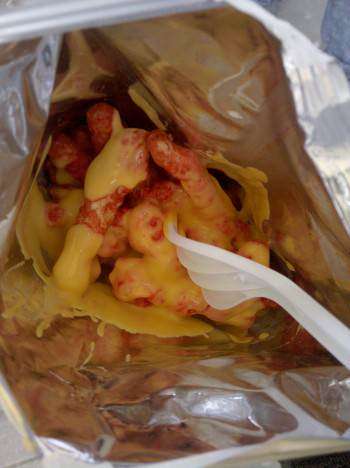 But, as always, if you want to see government provision of goods and services at its worst, drop by a school:
Recently, Slow Food USA President Josh Viertel visited with some high school students in California, one of whom shared with him the gory tale of hot Cheetos with melted cheese on top. In a bag. With a fork. Lunch on the go! We asked our mole, Rameen, to send us a picture. Whoahhhhh.

He reported that his school cafeteria sells them—not in the lunch line, but in one of the "competitive foods" lines. He said they appeal to students whose lunch period is too short to wait on a long lunch line.
Note that while we are not strictly sure that this photo was taken in a public school, Internet chatter indicates that this is not an uncommon school lunch offering.