Asian Carp: Illegal Immigrants of the North
President Obama has his hands full these days, what with the Gulf Oil Spill, the change of command in Afghanistan, Wall Street reform, Supreme Court decisions and replacements, and even some old-fashioned Russian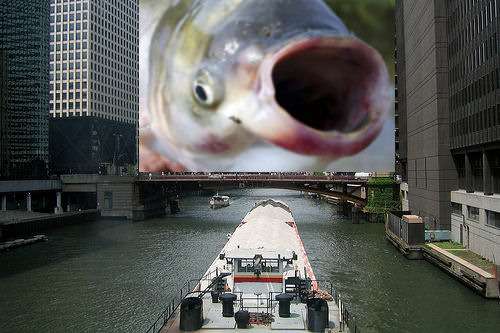 espionage. Nevertheless, Great Lakes environmental groups sent a letter to the president today urging him to intervene in the great illegal immigration panic of the American northeast: the Asian carp invasion. But just as recent efforts down south to keep out foreign people have been heavy handed, costly, and ineffective, the war on foreign fish up north doesn't make much sense, either.
It started with the Army Corps of Engineers' underwater electric fence and monitoring systems to protect native fish populations from the carp hordes. Price tag: $16 million. After genetic material belonging to the carp was found on the other side of the barrier, environmental groups went into a fish frenzy. The Illinois Department of Natural Resources dumped 2,200 gallons of poison into the water, killing 90 tons of fish but only one lonely carp. Price tag: $3 million. Michigan Attorney General Mike Cox filed a lawsuit to shut down the Chicago Sanitary and Ship Canal, which would have hampered Chicago-area shipping industries worth $1.5 billion had the U.S. Supreme Court taken Cox's side. But no matter how many expensive overreactions the Great Lakes states fall for, the carp are coming. The Detroit Free Press reported today that:
"A bighead Asian carp was found last week in Lake Calumet six miles from Lake Michigan and miles beyond the electric barrier intended to halt the progress of carp from southern rivers into Lake Michigan."
Is it time for Michigan and Illinois fishermen to abandon the lakes and flee to Canadian waters, then? Not so fast. As The Stew, the Chicago Tribune's food blog, pointed out:
We might as well start organizing the fishing tournament now. Search for open dates to hold Carpapalooza, our annual summer festival. Begin auditioning actors to play Carpy, the adorable mascot who'll work the promenade along Navy Pier, entertaining visitors of all ages ("Daddy, take my picture with Carpy!")

Chicago chefs, start whipping up those seasonal Asian carp recipes now. Chicagoans eat smelts, for crying out loud; they'll get used to eating Asian carp….

One chef says the fish is pretty tasty, a cross, he claims, between scallops and crab meat. Of course, people selling a fish always say it tastes good, and they always describe it as resembling something very mild in flavor. We'll see.

But I see this as a bandwagon we ought to be boarding. This is an edible, plentiful fish. And talk about sustainability—the fish are thriving even though we're trying to kill them.

The moment is coming. We might as well seize it. In other words, Carpe carp!
Obama should disregard environmental agencies and their fish xenophobia. The hungry bellies of Great Lakes-area seafood lovers are the best possible remedy to the purported carp problem.
Read more from Reason on the overblown Asian carp crisis here. Reason Senior Editor Katherine Mangu-Ward blogged about immigration barriers and the people (and fish!) who regularly outsmart them here.