Let's Meet on the Corner of Obama and Fillmore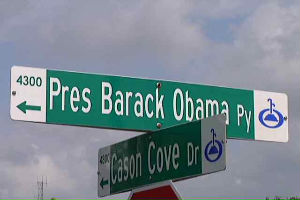 The people of Orlando, who kindly bequeathed to America great cultural institutions like Wet N' Wild and Splendid China, have decided that it is, at long last, time to name a street after President Barack Obama. According to this report from News 13, a team of clever "Orlando leaders" decided to rectify this injustice by immortalizing the prez with his very own parkway, connecting two isolated city exurbs. Buddy Dyer, the city's porcine mayor (who should definitely not be confused with Budd Dwyer), decided that millions should be spent on the Obama Parkway so that Orlando can keep families intact:
"Building these reliever roads is important for people being able to get to work or home and being able to save 10 minutes they can spend with their families. In this particular area John Young (Parkway), Kirkman (Road), I-4 always have congestion."
Ten minutes is all it takes to keep your child from growing despondent, from finding refuge in the music of GG Allin. And is this construction money which being provided by the very man it seeks to honor?
But why name it after a sitting president? The city commissioner who proposed the name admitted to News 13 that it's all an elaborate scam to meet President Obama. "One of my dreams would be when we get ready to cut the ribbon that our president, presidential limo and seal would be the first to travel along Presidential Barack Obama Parkway." Dare to dream.