How to Make Brownies, Pentagon-Style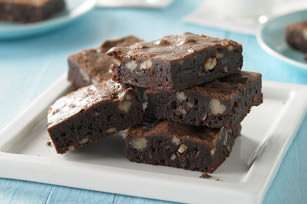 The Pentagon's brownie recipe is 26 pages long. Just grab a copy of document MIL-C-44072C and gather your ingredients: water that conforms to the "National Primary Drinking Water Regulations (Copies are available from the Office of Drinking Water, Environmental Protection Agency, WH550D, 401 M Street, S.W., Washington, DC 20460)," and some eggs in compliance with "Regulations Governing the Inspection of Eggs and Egg Products (7 CFR Part 59)," and you're ready to go!
3.3.2 Brownie preparation. (NOTE: The contractor is not required to follow the exact procedure shown below provided that the brownies conform to all finished product requirements in 3.4.)
a. Whip eggs in large bowl on high speed until light and fluffy.
b. Combine sugars, cocoa, salt, and leavening; add to beaten eggs, and whip on high speed until thick.
c. Add shortening slowly while mixing on low speed.
d. Scrape bowl and whip on high speed until thick.
e. Mix flour, nuts, and flavors together and fold into batter; mix until uniform.
f. Pour batter into pan at a rate that will yield uncoated brownies which, when cut such as to meet the dimension requirements specified in 3.4f, will weigh approximately 35 grams each. (Experimentally, a panning rate of 14 to 16 grams per square inch was used.)
g. Bake at 350F until done (30 to 45 minutes).
3.3.3 Brownie cutting. The brownies shall be cut to the appropriate size when cool (see 3.4f).

Wondering about adding walnuts? Simply consult section 3.2.5.3 from the "30 April 1990 SUPERSEDING MIL-C-44072B 9 December 1987 W/CHANGE 12 February 2003 MILITARY SPECIFICATION COOKIES, OATMEAL; AND BROWNIES; COCOLATE [sic] COVERED."
3.2.5.3 Nuts, walnuts, shelled. Shelled walnut pieces shall be of the small piece size classification, shall be of a light color, and shall be U.S. No. 1 of the U.S. Standards for Shelled English Walnuts. A minimum of 90 percent, by weight, of the pieces shall pass through a 4/16-inch diameter round hole screen and not more than 1 percent, by weight, shall pass through a 2/16-inch diameter round hole screen. the shelled walnuts shall be coated with an approved food grade antioxidant and shall be of the latest season's crop.
These rules are for brownies destined for MREs, so it makes sense that Department of Defense wants to make sure they're getting uniform brownies with staying power. And many of the pages of regulations have to do with durability of packaging. But any sympathy I might have had for the whole brownie specs enterprise dissolved when I got to section 4.5.1.1, "Ingredient and component examination," which included this gem:
If necessary, each ingredient shall be examined organoleptically.
Sound like some kind of fancy scientific process, right? As in: "Put those walnuts in the Organoleptatron3000 to test for radioactivity." But in fact, testing "organoleptically" means that tasting, smelling, or looking at something. It's not clear whether you're allowed to decide if a batch of walnuts are OK by nibbling on a few before or after passing you pass them though a "2/16-inch diameter round hole screen" and coat them with "approved food grade antioxidant." All that and yet they can't spell chocolate or reduce fractions?
To answer the obvious question: No, there are no standards for the production of "special brownies."
Download the entire PDF to get the full specs, or do what I do: Go for the rather less complicated Baker's One Bowl Brownie recipe.
Via CEI's Ryan Young.