Which Religion Gives Everybody a Cracker?
The case of an Afghanistan veteran facing jail time for taking his daughter to church reveals fault lines over child custody law and has left a troubled nation uncertain whether to joke about Catholic schoolgirls or Jewish princesses.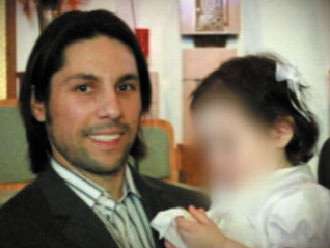 Joseph Reyes could get six months in jail on contempt charges after baptizing his three-year-old daughter and taunting his Jewish ex-wife with the details. ABC reports:
Reyes' decision to baptize his daughter without his wife's permission resulted in what some are calling an extraordinary court order: [Judge Edward R.] Jordan in the Circuit Court of Cook County, Ill., imposed a 30-day restraining order forbidding Joseph Reyes from, according to the document, "exposing his daughter to any other religion than the Jewish religion."

The couple married in 2004. Joseph Reyes was Catholic, but he converted to Judaism to please his in-laws. He has said the decision wasn't "voluntary."…

When the marriage fell apart, Rebecca Reyes, 34, got custody of their daughter. The girl, now 3, has been raised Jewish and attended a Jewish preschool…

Joseph Reyes sent his wife pictures and an e-mail documenting the occasion. Rebecca Reyes responded by filing for the temporary restraining order, which the judge granted.

Stephen Lake, Rebecca Reyes' attorney, said his client was shocked at her estranged husband's actions.

"Number one, it wasn't just a religious thing per se, it was the idea that he would suddenly, out of nowhere without any discussion have the girl baptized," Lake said. "She looked at it as basically an assault on her little girl."

Furthermore, Joseph Reyes had never been a particularly devout Christian, Lake added.
The story has been around for a while, and Reyes is now using an extra-legal argument: the old chestnut about how Jews should worship Jesus too. He tells ABC, "I am taking her to hear the teachings of perhaps the most prominent Jewish rabbi in the history of this great planet of ours." That syncretic view hasn't stopped him from complaining that his ex is too pushy: "I've made every concession that I possibly can make for Rebecca, and I have to draw the line in the sand somewhere and this is where I choose to draw it."
The consensus of legal talking heads seems to be that the court order is not legitimate, but courts have pretty broad discretion on prescribing visitation conditions. Whether attempting to inflict Catholicism can be considered bad for the child's welfare is another matter. But at least both parents agree that you should always use the kid as a weapon in your divorce.
Can goys and Jews ever work it out? Here's a clip from Bridget Loves Bernie, the show so bad it turned Meredith Baxter gay:
Ron Bailey looks at three more strange custody cases.