"I'm Not Trying to Stop Anybody from Doing Anything"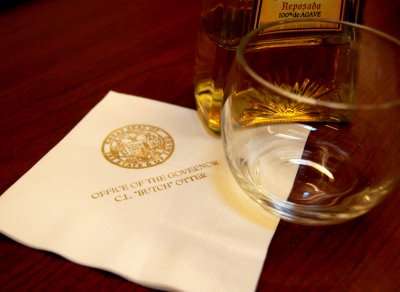 Who knew? They make liquor in Idaho. Right now, it's illegal for distilleries to offer tastings in the Potato State. A bill to legalize the tastings gained some traction, but then died in committee on Monday under a hail of Mothers Against Drunk Driving-style talking points:
Rep. Lynn Luker, R-Boise, asked [Rep. Jim Clark, R-Hayden Lake] if there are any studies on "how many people drive an automobile to these booze boutiques." Clark said no, but that most people likely do; he stressed, however, that the same drunk driving laws apply regardless of the bill.

Clark also told the committee that people likely wouldn't swallow most of the alcohol they sample; he said at both wine and spirits tastings, "you taste it, you get the sense of it on the lips, then you spit it out."

But Rep. Ken Andrus, R-Lava Hot Springs, asked, "How are you going to stop 'em from swallowing it if it's in their mouth?"

"I'm not trying to stop anybody from doing anything," Clark responded.
And that's sort of the crux of the thing, isn't it?
And these days, no discussion of any bill, ever, anywhere in America is complete without this stock line:
"HB 393 is a small-business jobs bill," Clark told the House State Affairs Committee. "The big emphasis here should be jobs—this is a jobs bill."