Can the Climate Conference Avoid Diplomatic Doom?
Ronald Bailey's third dispatch from the Copenhagen climate conference
Copenhagen, December 16—It's déjà vu all over again. Another year, another climate summit on the verge of collapse. As usual, this year's conference is filled with lots of diplomatic drama, outraged activists, and high-minded rhetoric. This is the sixth time I've reported on the annual U.N. climate change conference and the script has not changed. Two years ago the chaotic climate change talks in Bali "nearly collapsed." The conference concluded with an thirteenth hour "roadmap" for future negotiations. That last minute deal was supposed to set the stage for a legally binding global climate treaty from the United Nations Framework Convention on Climate Change's (UNFCCC) 15th Conference of the Parties (COP-15) in Copenhagen.
But even before the delegates convened at the Bella Center south of Copenhagen, Danish Prime Minister Lars Løkke Rasmussen stated that no such comprehensive treaty would be completed at COP-15. The aim shifted to negotiating a political agreement that set out specific goals for cuts in the emissions of greenhouse gases and the amount of money that developed countries would pledge to give poor countries to help them adapt to climate change.
It appears that a lot people assumed going into COP-15 that the replacement of the widely loathed George W. Bush with Barack Obama as U.S. president would change everything. Much to the shock and horror of many of the "climate justice" activists gathered here in Hopenhagen, it hasn't.
At a Climate Action Network press conference today, an Oxfam campaigner warned that the U.S. risks "being seen as the country that brought these negotiations to its knees." And a Greenpeace activist lamented that the U.S. could come out of these negotiations being thought "obstructionist, much like the Bush administration." He's right. Following in the footsteps of their Bush administration predecessors, negotiators for the Obama administration are insisting that big emerging economies must take on some verifiable obligations with regard to their greenhouse gas emissions. In other words, if countries like China don't make some international commitments to controlling their emissions, then neither will the United States. Now COP-15 conferees are waiting to see if either country will blink in the next 24 hours.
Speaking of soaring rhetoric, Sen. John Kerry (D-Mass.) was afforded an opportunity to address an adoring crowd at the conference this afternoon. A very busy Yvo de Boer, the UNFCCC executive secretary, took time out of tense negotiations to personally introduce Kerry. The senator assured the audience, "President Obama is coming to Copenhagen to put America on the right side of history." Kerry then promised, "Next year the House and Senate will pass comprehensive energy and climate change legislation that will reduce our emissions." At a later press conference, Kerry said he didn't know what form the legislation would take, but mentioned that some members of Congress favored a carbon tax. In his speech Kerry added that meeting the challenge of getting climate change legislation passed this spring, "can be enormously assisted by what happens here." What Kerry is saying is that if President Obama can take back a Copenhagen agreement that looks like the whole world is on board already, that would put pressure on recalcitrant members of Congress to go along with carbon rationing schemes.
However, the Massachusetts senator made it clear that whatever is agreed to must include commitments by emerging economies to control their greenhouse gas emissions. "In order to pass a climate change bill, we have to reassure senators that steelworkers in Ohio won't lose their jobs to India and China," Kerry added. "Countries that fail to make commitments can't dump their high carbon products in our markets."
Carbon trade wars, anyone? At an earlier session sponsored by the Bellona Foundation, Michael Williams of the Blue Green Alliance, a labor union/environmentalist lobby group, pointed out that the American Clean Energy and Security (ACES) Act passed by the House of Representatives last June contains provisions establishing "border tax adjustments" that aim to protect 47 sectors of the U.S. economy from foreign carbon dumping. The previous day, Chinese Ambassador Yu Qingtao strongly rejected the idea of carbon tariffs and warned, "We oppose action by any country to set up new trade barriers using climate protection as an excuse." It was pleasant to hear a vigorous defense of free trade from a representative of Communist China.
Recognizing that the U.S. proposal to cut its greenhouse gas emissions by 17 percent below their 2005 levels by 2020 is being widely criticized at COP-15 for "lack of ambition," Kerry told his audience not to get too hung up on that figure. He predicted that in the coming years it will be so easy and cheap to cut emissions that "every country that has put a reductions target out there will exceed their targets." A bold prediction, given the fact that lots of Kyoto Protocol signatories have already failed to meet their reduction targets.
At a press conference this evening, UNFCCC executive secretary de Boer said, "I still believe it's possible to reach real success, but I must say that in that context the next 24 hours are absolutely crucial." Major issues to be decided (or not) during the next 24 hours include scrapping the Kyoto Protocol and replacing with comprehensive treaty that includes commitments from developing nations; requiring developed nations to cut their emissions by 20 percent or by 40 percent by 2020; setting a limit to global warming of 1.5 degrees C or 2.0 degrees C above pre-industrial levels, and carbon dioxide levels in the atmosphere to 350 ppm or 450 ppm; and supplying $100 billion in annual climate change aid to poor countries by 2020.
So the pressure is on. Both President Obama and Chinese Premier Wen Jiabao and 113 other heads of state will be at COP-15 on Friday to sign something or other. Of course, COPs have always in the past managed to avoid diplomatic doom, if not planetary doom. There is every chance that this COP will do much the same: reach an agreement long on self-congratulation and short on specific commitments.
A couple of additional notes about the conference:
Climategate reared its ugly head a couple of times today. For example, during the Bellona Foundation session, Jeremy Symons of the National Wildlife Federation adopted Al Gore's meme that it's a smear campaign orchestrated by climate change "deniers" funded by oil companies who are trying to derail climate change negotiations by playing "gotcha politics with 10 year-old emails." Never mind that the some of the emails are as recent as October.
President of the Bolivarian Republic of Venezuela, Hugo Chavez, who went 40 minutes over his allotted five minutes in his address to delegates, turned in his usual amazing performance. Chavez declaimed, "There is a ghost running through the streets of Copenhagen…a terrible ghost. Capitalism is that ghost." The Venezuelan despot also compared the conference to an "imperial dictatorship" and threatened that "no document created during the summit would be accepted by the Bolivarian Alliance."
Polar bears continue to pop up all over the conference. This one wants to keep the climate cool by cutting back atmospheric carbon dioxide to just 350 parts per million, down from 387 today: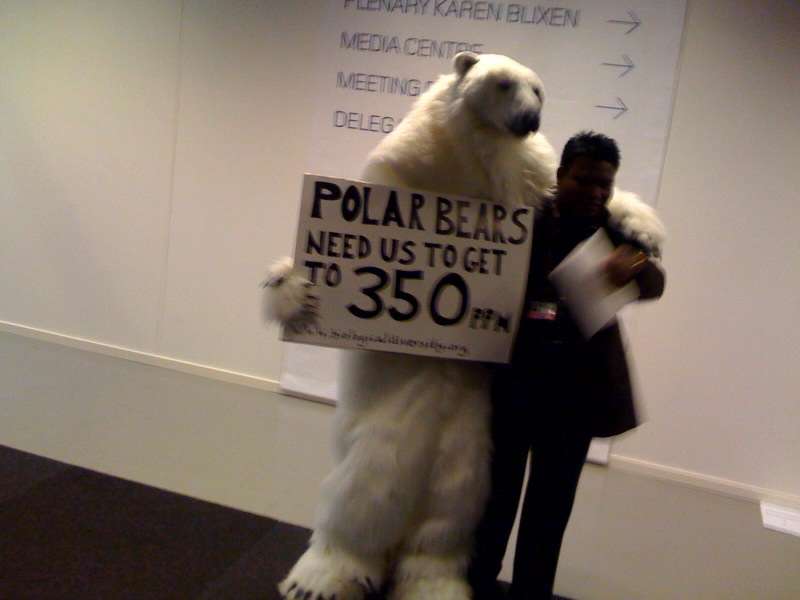 Note: Yes, I did say in my last dispatch that I would report on the latest findings about melting ice and snow, but reporting on the negotiations prevented it. I will try to do so in tomorrow's dispatch.
Ronald Bailey is Reason's science correspondent. His book Liberation Biology: The Scientific and Moral Case for the Biotech Revolution is available from Prometheus Books.