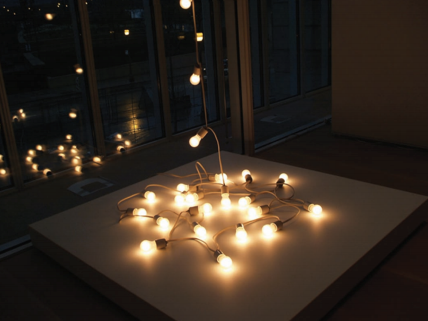 Felix Gonzalez-Torres, who died of AIDS in 1996, intended the warm incandescent bulbs in his 1993 installation Untitled (Strange Music) to burn out and be replaced, part of a cycle of expiration and renewal. To substitute long-lasting, environmentally friendly compact fluorescent bulbs would change the piece beyond recognition. But that's just what the European Union expects gallery owners, curators, and contemporary artists to do.
European Parliament Directive 2005/32/EG banned the sale and importation of 100-watt incandescent bulbs starting September 1, with lower wattages phasing out over time. There is no exception for artists or museums, and getting caught selling wasteful old-style bulbs brings a whopping $70,000 fine.
Sales of incandescent bulbs were up 150 percent in the E.U. in August, but hoarding isn't a viable option to protect the bulb-intensive works of Laszlo Moholy-Nagy, Olafur Eliasson, Carsten Höller, Jorge Pardo, and the many others joining Gonzalez-Torres on the endangered list.
The E.U. has stood by the total ban, with spokesman Ferran Tarradellas boldly overstating his case in ArtForum: "It's utterly ludicrous to ask the commission for the sake of art to leave a product on the market that could be dangerous for the environment, health, and the consumer. Otherwise exceptions could be asked for when an artist wants to use antiperson [sic] landmines, enriched plutonium, or CFC."
Katherine Mangu-Ward (kmw@reason.com) is a senior editor at reason.