The Specter of Condemnation is Haunting New York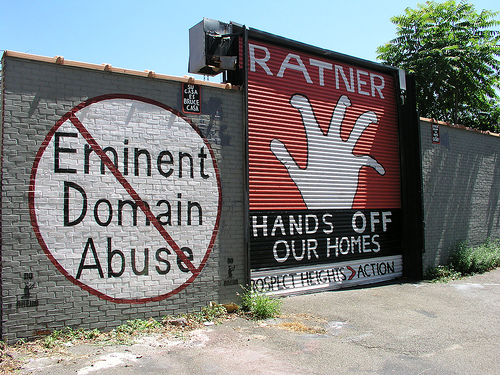 Daniel Goldstein, the lead plaintiff in the New York eminent domain lawsuit Goldstein v. New York State Development Corporation, takes to The Huffington Post to explain just how high the stakes in the case really are:
As of now, though, there is basically no protection for property owners and tenants in New York. If a condemning authority, such as the Empire State Development Corporation, or New York City's Economic Development Corporation, staples together enough pieces of paper that make speculative claims about some amorphous "public benefits"—then your home will become theirs to transfer to private developers for their enrichment.
Such is the case with the use of eminent domain for the Brooklyn Atlantic Yards project, which is what the Court is now considering. If public use can mean public "benefit," then it can literally mean whatever the state wants it to mean, and leads to the non-rhetorical question: What isn't a public use?
Right now, the answer is unknown. We need some clarity. Most observers wouldn't consider luxury condominiums and a privately owned basketball arena with lucrative naming rights accruing solely to the arena developer to be a public use.
Read the whole thing here. For more on the Atlantic Yards boondoggle, see Goldstein's Reason article "Private Developers Have No Right to My Home" and my "When Public Power is Used for Private Gain."
Photo by Steve Soblick.