Jon Stewart: America's New Cronkite, According to Dubious Online Poll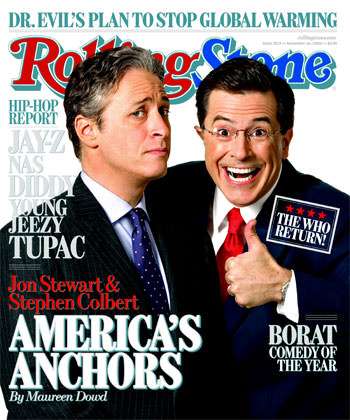 A few internet people have noticed that, according to a poll conducted by Time Magazine, comedian Jon Stewart is now America's "most trusted newscaster." (Not exactly a new meme.)
Cue all sorts of kvetching about the death of American journalism, or the broader American intellect, or whatever.
But whence this factoid? The Time poll in question was an unscientific online affair, and almost a third of the 9,409 votes came from "abroad." Since when were easily hacked, anonymous click polls considered reputable sources?
The poll was one in a series. Other questions in the series have yielded some pretty interesting "facts": Bing is more popular than Google, Hermione is America's favorite supporting character from Harry Potter, and Congress should pass a resolution honoring Michael Jackson as a "global humanitarian." Also, Iowa (or a poll-script writer in Iowa) apparently has a mile-wide contrarian streak and a crush on Katie Couric.
The poll, then, is hardly ironclad proof that Jon Stewart is America's new "most trusted man." More likely, it just makes sense to some observers that America would wholeheartedly trust a comedian to deliver the nightly news. Idiocracy, man. It's so true.
In noting Walter Cronkite's death, Reason's Jesse Walker danced on the grave of the three-network system that fostered "the man America trusted." Michael C. Moynihan told us all about what's wrong with Stewart here.