"Terminal Illness Is a British Obsession"
Controversy over physician assisted suicides is alive and well in Great Britain. Earlier this week it was reported that one of the country's premier conductors flew with his terminally-ill wife to Switzerland where they partook in a "lethal cocktail of barbiturates" together.
Although friends who spoke to the British news media said Sir Edward was not known to have been terminally ill, they said he wanted to die with his ailing wife, who had been his partner for more than half a century.

The couple's children said in an interview with The London Evening Standard that on Tuesday of last week they accompanied their father, 85, and their mother, Joan, 74, on the flight to Zurich, where the Swiss group Dignitas helped arrange the suicides. On Friday, the children said, they watched, weeping, as their parents drank "a small quantity of clear liquid" before lying down on adjacent beds, holding hands.
Sounds peaceful. What could be better than being able to control the time, place, and circumstances of your own death?
Ludwig Minelli, founder of the Swiss euthanasia clinic Dignitas, that serviced the couple, said in an interview earlier this year with the Telegraph that suicide is a question of basic, human rights:
It's a right, a human right, without condition except capacity of discernment. I have a totally different attitude to suicide. I say suicide is a marvellous possibility given to a human being. Suicide is a very good possibility to escape a situation which you can't alter. It is not a condition to have a terminal illness. Terminal illness is a British obsession
A Gallup poll conducted in 2006 shows that almost 7 out of 10 Americans support physician assisted suicide. Perhaps we don't share the British obsession?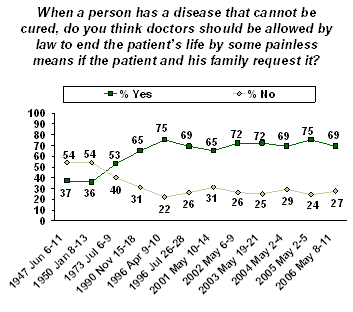 Reason coverage on physician assisted suicide here and here.