Suddenly I Don't Feel Like a Chili Dog Anymore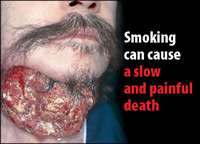 New York Times columnist Clyde Haberman is skeptical of a city health department plan to require icky pictures of smoke-damaged body parts (similar to the image on the right, which is from a British warning label) on signs wherever cigarettes are sold:
The photo is the latest idea from the city's Department of Health and Mental Hygiene, part of its nonstop campaign to acquaint the citizenry with the wickedness of smoking. Show smokers right there at the checkout counter how much gunk coats their lungs and maybe they will reconsider plunking down that Hamilton for a pack of cigarettes. That's the theory.

You might have thought that by now, even the most benighted smoker must know that the habit is destructive, no matter how satisfying in the short term.
Even if we accept that smokers need more vivid reminders of where their habit may be leading, says Haberman, why should the rest of us suffer?
Under the proposed new regulations, anyone who goes to the corner store will have to look at blackened lungs and possibly more. An assistant health commissioner, Sarah B. Perl, was quoted in The Daily News as saying that people are going to see what cancer of the mouth and the throat look like.

Really now, is it necessary to be subjected to such photos when all you want is a carton of orange juice?
Far be it from me to defend the Big Apple's professional paternalists, but I think the idea is that the disgusting images will deter people from starting to smoke as well as encourage current smokers to quit. That's what New York City Health Commissioner Thomas Farley has in mind when he says "we need to balance" point-of-sale cigarette advertising "with some information that protects people." Information is not really the issue, of course, and neither is balance, especially since the pro-smoking images to which Farley objects are banned by the new federal tobacco law (although that provision may well be overturned on First Amendment grounds). The point is that every nonsmoker is a potential smoker and therefore needs to be pre-emptively harangued. Because you might make the wrong choice in the future, you do not have a right to buy your orange juice without looking at graphic depictions of what could happen if you do.
Haberman speculates about how far this principle might be carried:
Why not require pictures of morbidly obese people at candy counters, to show what too many Snickers bars can do? Or photos of clogged arteries at fast-food restaurants, to discourage orders of double cheeseburgers? To promote safe sex, graphic examples of Kaposi's sarcoma could be placed by condom racks. Displays of horribly diseased livers in liquor stores ought to deter people from drinking to excess.
Farley's resonse is not "don't be silly." It's more like "we'll get to that later." He tells Haberman, "I'm not prepared to think about things like that now."