What Does Al Franken's Belated Senate Win Mean? Not Much, Says Wash Post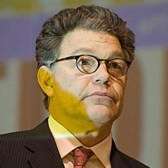 Incumbent Sen. Norm Coleman (R-Minn.) has burned through millions of dollars in Republican Party cash in a losing bid to challenge and reverse last fall's election. He has now officially conceded, with all the grace of a fox chasing sour grapes. Thus, funnyman Al Franken will now take the stage as a senator from the Land of 10,000 Lakes and no NHL team.[*]
What does adding another Dem to the World's Greatest Blah Blah Blah Body? Not much, says the Wash Post:
First, it definitely does not mean that Democrats have a filibuster-proof ticket to passing whatever they want. Though technically Democrats have now reached the magic number of 60 senators, it's worth remembering that for practical purposes, the majority may have just 58. Edward Kennedy is still receiving cancer treatments in Massachusetts, and Robert Byrd is now home from the hospital but with no timeframe for returning to the Senate. When the major procedural votes happen on health care and other issues, will either of those aging legends be able to get to the Senate floor? The question may sound indelicate, but as David Espo writes, "Neither man has been in the Capitol for weeks, and it is not known when, or even whether, they will return."

Second, even if Democrats do have 60 votes, there's no guarantee of unanimity, as the ongoing intraparty disputes over health care illustrate…. Beyond health care, unions are also touting Franken's win as another step toward passage of the Employee Free Choice Act, or "card check" bill. But that measure isn't at the finish line yet either, with multiple Democrats still opposed or at least hedging on it. Climate change is also a long ways from consensus in the chamber.
That said, if having a full-time job keeps Franken from imitating Mick Jagger ever again, then it's all good.
Back in May, I puzzled over what the extended battle between Franken and Coleman, which meant Minnesota had but one vote in the Senate, taught America. The short version: The U.S. Senate is a carrying more dead weight than an Uruguayan rugby team.
Correction: As several readers point out in the comments, Minnesota does indeed have a post-North (pronounced No) Stars hockey squad, the Minnesota Wild. I regret the mistake and my face is as red as Gump Worsley's after taking a puck to his maskless mush.