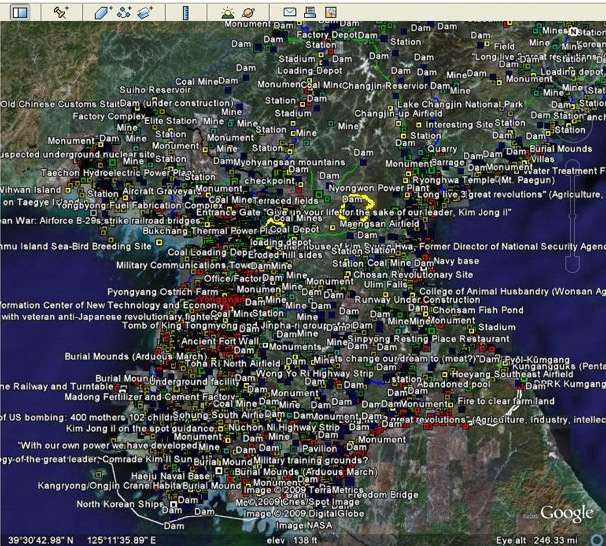 So my friend Curtis Melvin is kind of a badass. The hardcore libertarian "vacations" in authoritarian countries like Zimbabwe, Iran, and Turkmenistan.
He has also been to North Korea–twice–and and in 2007 started a fascinating project where he's using Google Earth, news reports, and North Korea's own government propaganda to pull the veil back on the country's secretive infrastructure. Since he started the project, collaborators from all over the world have joined the effort, including defectors and former military intelligence officials.
Today, the Wall Street Journal has a front page article about Melvin's project.
More than 35,000 people have downloaded Mr. Melvin's file, North Korea Uncovered. It has grown to include thousands of tags in categories such as "nuclear issues" (alleged reactors, missile storage), dams (more than 1,200 countrywide) and restaurants (47). Its Wikipedia approach to spying shows how Soviet-style secrecy is facing a new challenge from the Internet's power to unite a disparate community of busybodies.

"Here is one of the most closed countries in the world and yet, through this effort on the Internet by a bunch of strangers, the country's visible secrets are being published," says Martyn Williams, a Tokyo-based technology journalist who recently sent Mr. Melvin the locations of about 30 North Korean lighthouses…

People soon started sending him locations they knew, from tourist sites to airfields tucked into valleys near South Korea. Mr. Melvin says that sadness for North Koreans' plight, and the fascination of discovery, motivated him to continue.

Many updates later, Mr. Melvin and his correspondents have plotted out what they say is much of the country's transportation network and electrical grid, and many of its military bases. They've spotted what they believe are mass graves created in the 1995-98 famine that killed an estimated two million people. The vast complexes of Mr. Kim and other North Korean leaders are visible, with palatial homes, pools, even a water slide…
Melvin and his collaborators have also been able to identify and locate prison camps the North Korean government says don't exist.
It's nice to see Melvin get some much-deserved attention for his work. You can download the "North Korea Uncovered" file here.