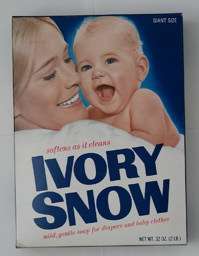 In 1972, a movie called Behind the Green Door proved that ordinary Americans would sit through a feature-length experimental art film with vague intimations of the occult, if it meant they got to watch Marilyn Chambers having sex. This was back when the porn industry was in effect cross-subsidizing the avant-garde film community, thus demonstrating its redeeming artistic merit and staying—sometimes—on the tolerant side of the law. In this case, the results were memorably strange: Chambers' picture was based on a piece of folklore, but—as with the street poem that inspired another classic of lowbrow '70s surrealism, Dolemite—it wasn't the sort of folktale that ordinarily appeared on a movie screen.
Before that career-defining role, Chambers was best known as the model on the Ivory Snow soap box (advertised as "99 & 44/100 percent pure"). She went on to appear in David Cronenberg's cult horror picture Rabid and a host of X-rated movies, and in 2004 she ran for vice president on the Personal Choice ticket, a spinoff of sorts from the Libertarian Party. She was later involved in the Boston Tea Party, another Libertarian offshoot, and in some states she served last year as the BTP's vice-presidential candidate.
This past weekend she died of causes unknown, a week shy of her 57th birthday. She was, in her way, one of the cultural icons of 1970s America, and I hope she rests in peace.