Come to a Reason.tv Viewing Party on Friday, March 13! Or Watch Live at this website!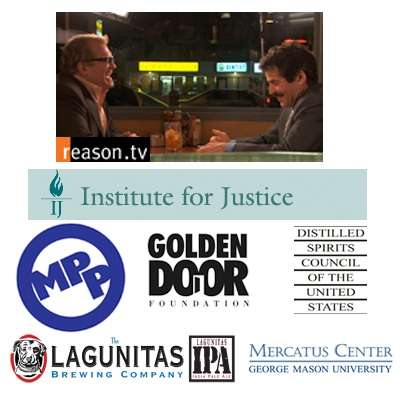 Please join Reason for a special evening of drinks, food, and conversation on Friday, March 13, from 8pm til midnight.
We'll be gathering at our Washington, D.C. headquarters for a viewing party of the new John Stossel 20/20 special "Bailouts, Big Spending, and Bull." Featuring segments on medical marijuana, universal preschool, traffic congestion, immigration, and more, the show was inspired by  episodes of Drew Carey's award-winning Reason.tv videos and features an appearance by The Price Is Right host.
Prior to the airing of the special, Reason.tv Editor in Chief Nick Gillespie will lead a fast-paced discussion and audience Q&A on the issues covered in 'Bailouts, Big Spending, and Bull."
This conversation will be streamed live at Reason.com, starting at 8.30PM ET. If you can't attend in person, set your browser to Reason.com.
The evening's speakers include:
* Rob Kampia, Marijuana Policy Project, on drug policy
* Dana Berliner, Institute for Justice, on eminent domain abuse
* Veronique de Rugy, Mercatus Center, on bailouts and stimulus spending
* Dan Lips, Heritage Foundation, on universal preschool
* Shikha Dalmia, Reason Foundation, on immigration policy
* Shirley Ybarra, Reason Foundation, on traffic congestion and transportation
Doors open at 8pm; program begins at 8.30pm; 20/20 airs at 10pm ET.
Soft and hard drinks and light fare will be served. The event is free and open to the public but space is limited. Please RSVP to events@reason.com.
Reason would like to thank Marijuana Policy Project, the Institute for Justice, Mercatus, The Distilled Spirits Council of the United States, Golden Door Foundation, and the Lagunitas Brewing Company for their generous help in underwriting this event.
What: Reason.tv viewing party for John Stossel's 20/20 special "Bailouts, Big Spending, and Bull"

When: Friday March 13, 2009, 8pm-midnight

Where: Reason DC HQ, 1747 Connecticut Avenue NW, Washington DC

RSVP: events@reason.com