Friday Fun Food: Senate Gets Hot Dog Machines
It has been a big week in the U.S. Senate. Yesterday, the World's Greatest Deliberative Body passed a bill granting voting rights to the District of Columbia. Today, it got hot dog vending machines.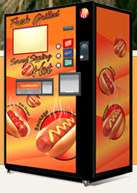 I hit up the newly installed machine in the Hart Senate Office Building to try out this miracle of modern vending science. Since it was the machine's first day, a technician from LHD Vending Systems was there buying a few dogs on house (err, House?) for interested passers-by. No word on whether accepting a $2 dog violates ethics rules for Senate staff. Beware the wrath of the guardian of integrity, the two-headed monster known as McCain-Feingold!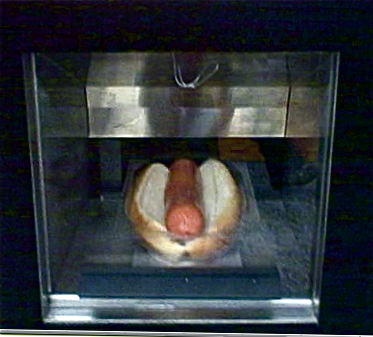 I went for the $2.50 all-beef Kunzler dog. The machine has a glass window in the front, you can see your hot dog get plucked from the refrigerated section, cooked (with "infrared," according to Alex Cifuentes, the helpful on-scene technician/spokesman), deposited in a warmed bun, and delivered though a sliding door. The dog is delivered naked, but condiments are supplied.
The dogs are pretty decent—better than boiled or microwaved, if not quite up to true grilled standard. And more miraculous even than the existence of a hot dog vending machine: Normally fast-walking, busy-and-important Senate staffers stopped to gawk at the machine and kibitz while it did its thing. None would go on the record with their observations about hot dogs, though. Let's just say that several high ranking Senate staffers are pro-hot dog.
Just in case the old saw about Washington being recession-proof turns out not to be true, you can cobble together your very own D.C. version of a Gray's Papaya Recession Special right on Capitol Hill. Gray's price these days is $4.45 for two dogs and a drink. At $2 a pop for the dogs and juice and soda machines flanking the dog machine, a similar package is yours for the making.
Nothing beats an illegal bacon dog, of course: