A (Harshly Beaten) Skeleton in the Education Secretary's Closet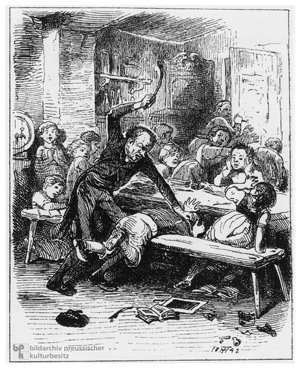 A TV channel in Chicago exposes child abuse in the city schools:
Treveon Martin is one of at least 818 Chicago Public School students, since 2003, to allege being battered by a teacher or an aide, coach, security guard, or even a principal. In most of those cases—568 of them—Chicago Public School investigators determined the children were telling the truth….

The 2 Investigators found reports of students beaten with broomsticks, whipped with belts, yard sticks, struck with staplers, choked, stomped on and pushed down stairs. One substitute teacher even fractured a student's neck.

But even more alarming, in the vast majority of cases, teachers found guilty were only given a slap on the wrist.
And in case you were wondering what relevance this might have in the world beyond Chicago:
CBS 2 informed former Chicago Public School CEO Arne Duncan of our investigative findings shortly before he was promoted to U.S. Secretary of Education.

"If someone hits a student, they are going to be fired. It's very, very simple," Duncan said….

But that's not what happened under Duncan's watch. Of the 568 verified cases, only 24 led to termination. Records show one teacher who quote "battered students for several years" was simply given a "warning" by the Board of Education.

And another student was given "100 licks with a belt." The abuse was substantiated, but the records show the teacher was not terminated.
In some school systems, it's almost impossible to a fire a teacher even when you try. Still: Duncan, who has a history as a reformer, has managed to terminate several teachers when their schools weren't performing academically. You'd think credible allegations of child abuse might attract his attention as well.
[Via Undernews.]