The New South In the Shell of the Old
Spotted on Ben Smith's blog: a Confederate flag and an Obama sign share a yard.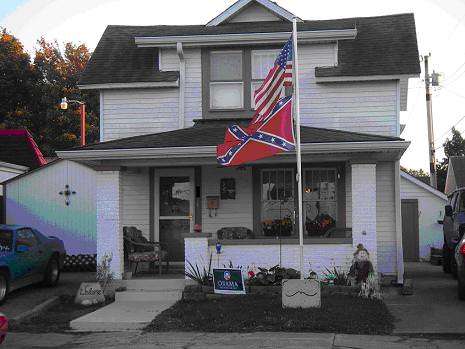 Reminds me of something the great southern sociologist John Shelton Reed once wrote:
…last year I was startled, then amused, then heartened to see the battle flag flying from a student residence at the College of Charleston—right next to the green, red, and black banner of black nationalism. I have no idea who flew those flags together, or why, but that sort of juxtaposition can make people stop and think, and I'm optimist enough to believe that's not usually a bad thing.

These examples make me wonder whether there's some way to universalize the Confederate symbols after all, some way to accept the past for what it was, not deny it or forget it, but transform it for our common use….Consider, for instance, the T-shirt designed by Southern Reader, a quirky, neo-secessionist, "eco-regionalist" bimonthly out of Oxford, Mississippi. It bears a battle flag, transformed: black and white on a field of green. And a motto from James Brown: "Keep It Funky."
Elsewhere in Reason: In 1999 I wrote about a similar shirt.