It's Not Christmastime Anymore, it's Armagideon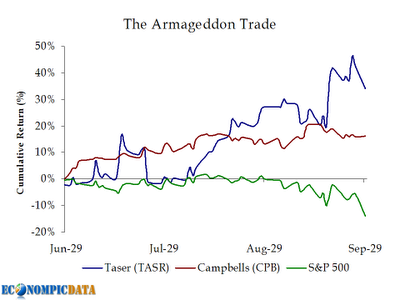 Your chart of the day comes from Econompic Data, whose editor notices that stock in Taser and canned soup was outperforming the S&P index.
I personally can't think of any pure bomb shelter plays (although the housing index is up over the past three months), but over the past three months; Campbell Soup Co (which also happened to be the ONLY stock in the S&P 500 that was up yesterday) and Taser International are up 16% and 34% respectively. This compares very favorably to the S&P 500, which has struggled and is down 14% over that time frame.
Via Ezra Klein. I echo his challenge: Build your own Apocalypse portfolio!