What's the Matter with Pyongyang?
Nothing, according to Yale University senior Jerry Guo, a promising young student studying—don't laugh—North Korean economics. Guo writes in Sunday's Washington Post that, contrary to all that propaganda from the West, the Juche Kingdom ain't all that bad:
"What I did witness: a mother buying a soda for her daughter from a sidewalk snack cart; two older women sitting on a bench, gossiping and eating pears; businessmen coming out of the subway, sans Bluetooth headsets; a grimacing teenage boy getting a haircut at a salon.

This was not the bizarro-land that I've read about in countless magazine articles and history books. No, this could have been Anytown, USA."

[…]

There were delicate blouses and dresses for around 15,000 won (roughly $4 at black market exchange rates), all sorts of fruit—thought to be nearly impossible to find in this mountainous hermit kingdom—and enough varieties of mystery meats to make my high school cafeteria green with envy.

[…]

And the town offers plenty else to do: there's golf, several karaoke bars, the "Kaeson Youth Funfair," a massage house with lots of late-night activity, and a shooting range (no joke: there's a field where you can practice your grenade-throwing).

[…]

And while conditions are certainly grim, the view I had of the countryside from my window suggested that they might not be as stark as all that: young boys giddily waving hello, men leisurely fishing, schoolchildren swimming in irrigation canals.
Take a look at the aerial view of Pyongyang on Google Earth and you will notice only a handful of cars on the street, and almost no people—just like Anytown, USA. It looks something like this: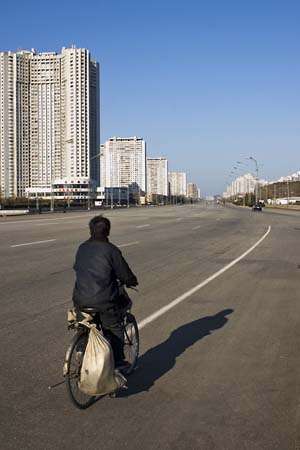 Oh, and after the karaoke bar and the indoor golf don't forget to check out a public execution!