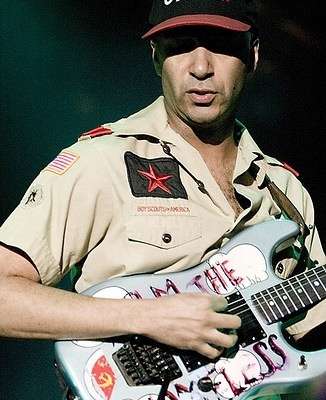 UK music magazine NME reports that lefty rap-rockers Rage Against the Machine are "planning a stunt for the Republican convention." According to Melvin Benn, the organizer of the Reading and Leeds Festival, which the band played last weekend, frontman Zack De La Rocha told him:
He wanted to play Friday and Saturday, because there's a Democratic Convention [in Denver] and he wanted to be at that… And there's a Republican one on Wednesday (August 27) and he wanted to go and picket that, and there's a stunt they're going to pull off that will no doubt hit CNN during the course of the week.
The last big Rage Against the Machine stunt I recall—aside from them posing as socialists while earning enormous profits for themselves and their partners at the (evil?) multi-national Sony Corporation—was getting arrested while filming a music video on Wall Street with Michael Moore. They also stood nude onstage at least once with their mouths taped and the letters P-M-R-C written on their chests, a jab at the music censoring nannies in the Parents Music Resource Center. So let's hope for something involving cops and naked people next week at the RNC.
In the meantime, disgruntled Democrats can fight the power tomorrow afternoon at the free "Tent State Music Festival to End the War" at the Denver Coliseum, where the band is headlining. But just in case RATM's late-90s nostalgia isn't your bag, Wayne Kramer of the MC5 will be there, too, reliving his band's famed appeared outside the 1968 Democratic convention in Chicago. Let's see Jon Bon Jovi and Bruce Springsteen top that!