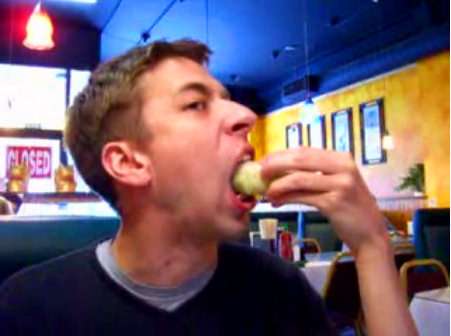 Jason Fortuny, the subject of Sunday's NYT Mag cover story, has been sued by one of the victims/schmucks from his "Craigslist Experiment." (WARNING: link not safe for work).
Background: Fortuny posted a rather raunchy ad, posing as a submissive heterosexual woman seeking a dominant heterosexual male for a little BDSM play. Over 170 men responded, many of them from their personal and work email accounts (as opposed to a dummy account started with fake personal info that everyone in his or her right mind should have for some very good, nonsexual reasons). The men sent pictures (some nude, some not), promised to do all kinds of sexual things to Fortuny's pseodonymous fem/sub, and requested meetings. Fortuny posted everything he received on his blog.

Two years later, one of the respondents is looking for some payback:
one of his victims has filed a $75,000 lawsuit against Fortuny in U.S. District Court, and this summer (after four months of effort) finally obtained a valid address for Fortuny and issued a summons….

According to the suit Fortuny "acted with actual malice to harm and deceive the individuals responding to the Craigslist ad." The suit demands a jury trial and seeks a full slate of damages — compensatory, statutory, and punitive, plus attorney's fees and costs.

"Plaintiff has suffered, and continues to suffer, harm arising from the foregoing wrongful conduct by Mr. Fortuny," the lawsuit complains, identifying the victim as John Doe and arguing that the incident affected his private life "and the manner in which he is viewed among family, friends, and colleagues."

John Doe is asking that Fortuny be enjoined from publishing the photo, that Fortuny destroy his copy of the photo (and sexy email), and to "cooperate in the removal…from any cached sites."

The specific charges?

Count one: Violation of copyright act
Count two: Public disclosure of private facts
Count three: Intrusion upon seclusion
Count four: Injunctive relief
And Fortuny's response (which you can read in greater detail here):
"In his communication, Plaintiff does not use his actual name, or provide any method of personal contact," he writes in his motion to dismiss — noting that the victim had used an anonymous email address….

"I did not obtain any information by intruding into Plaintiff's personal space, eavesdropping, or illegally intercepting any communication," Fortuny argues. "Thus, the disclosure of Plaintiff's e-mail is not, by its nature, personal or intrusive."…

"The use of the photo is in reduced form, is transformative, does not affect market value of the original photo, and is for a purpose of education and public interest." The motion also notes that it's a 4-kilobyte image (and not the original 22 kilobytes), and "there is ample case law that protects the fair use of reduced versions of media, especially for the purposes of education and discussion."
Andy Baio at Waxy.org has a great timeline of the Fortuny scandal, which he updated this morning. I wrote about Fortuny and the antisocial troll subculture here.