Luxury Spending Hits the Skids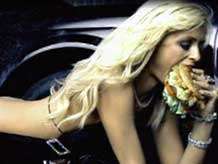 The AP reports "Rich begin feeling the pain in down economy":
Unity Marketing, a Stevens, Pa.-based firm whose clients include retailers in the more than $322 billion U.S. luxury goods market, said its latest poll of affluent people nationwide found a 20 percent decline in spending on luxury goods in this year's second quarter, and the lowest luxury consumer confidence level in the nearly five years the survey has been conducted.

Just over half of the 1,024 respondents earning an average income of $204,800 predicted they would spend less on luxury in the coming 12 months than they did a year ago.

Luxury spending fell 4 percent last year, and this year's decline is expected to be steeper, particularly for luxury handbags and clothing that don't hold value, Unity Marketing President Pam Danziger said.

"We face a very different environment for luxury indulgence in 2008 as compared to 2007," said Danziger, who predicts "a very difficult marketplace for luxury goods over the next five years."
reason's Kerry Howley wrote about luxury spending and "Vuitton values" here.