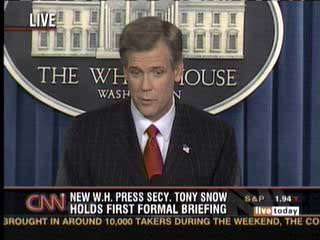 Tony Snow succumbed to cancer this weekend at the age of 53. For the past few years, reason had watched Snow's rise to White House Press Secretary with optimism and an appreciation of his talent. When Scott McClellan quit the White House, Tim Cavanaugh reacted to rumors that snow might replace him.
As a Tony Snow fan, I have to concede that this is the kind of career move you'd be a fool to turn down, but I still say: Don't do it, Tony. You're too good for that.
Snow's take on immigration appeared in our summer 2006 package on the issue, which went to print as the issue was burning up among Republican activists.
Immigration is not the pox neo-Know Nothings make it out to be. Begin with the astounding influx of illegal immigrants, the vast majority of whom hail from Mexico. While the population includes an eye-popping number of crooks, drug dealers, and would-be welfare sponges, it also provides a helpful prop for sustaining American economic growth and cultural dynamism.
When Snow was leaving the White House last year, The Reason Foundation's Shikha Dalmia (a former Snow colleague at the Detroit News) sat him down for a lengthy interview. She asked if he'd abandoned his criticisms of the president since working for him.
When you get to see somebody in action you get a different view, totally different. Also, we haven't had a lot of the issues on which I was critical that have arisen since I've been here. For instance, on an issue like immigration that I was really passionate about, he took on a lot of Republicans and I'm very proud of what he was doing. When it comes to the war, he's been incredibly steadfast in the face of a lot of people who would like him, really for the sake of polling reasons, to change the way he conducts the war. During my time, it's come down to a handful of key issues such as energy, education, immigration and retirement reform. On all of these, the president didn't do half measures. He's pushing for the right things—regardless of whether he accomplished them or not. I'm fully confident that over time immigration and retirement and all those things, those are the right policies and we'll end up with them.