Gettin' Sweaty with Jennifer Love Hewitt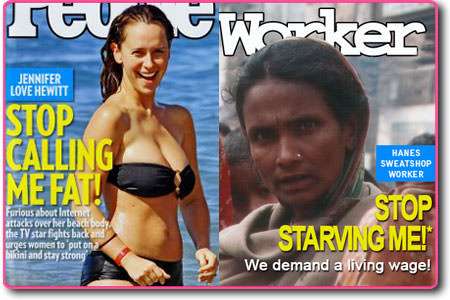 Just months after exposing her plus-size figure to the lissome tabloid readers of England (thanks Daily Mail!), Kids' Choice Award-winning actress Jennifer Love Hewitt, whose credits include Sister Act 2: Back in the Habit and Garfield, has outraged a group of perpetually outraged college students. The anti-trade group United Students against Sweatshops (USAS) has launched a website called "Jennifer Loves Sweatshops" (It's funny because it's her name!), accusing the actress, who is a spokesperson for Hanes, of shilling for "sweatshop underwear" and "selling products made in unsafe factories overseas where women are abused." On the site's homepage, the group juxtaposed an US magazine cover featuring Hewitt—headline "Stop Calling Me Fat!"—with a lame magazine mockup of an overworked, mistreated stock photography model. ABC News explains:
On its site, USAS paired it with a cover for a fake "Worker" magazine showing a woman with a drawn face and the headline, "Stop Starving Me!" A footnote explains the quote is not attributable to an actual Hanes worker and the photo is not of a Hanes employee.
A Haynes spokesman called the charges that its factory abused workers "incomprehensible." USAS, he said, is "trying to pick fights with celebrities and other people, it just doesn't make any sense." (The group previously attacked Kevin Bacon.)
Now, I know nothing about the factory in question—USAS could be right about conditions there, though I think a healthy skepticism of claims made by the "living wage" student set are in order—but a few points about sweatshops: As economist Benjamin Powell notes here, few of us lazy Americans would last a day in a Third World textile factory. But that's mostly because we have other options; most of us have far better employment alternatives. This, obviously, is not the case in a place like Vietnam, where a Nike factory worker can earn three times the minimum wage of a worker employed by a state-owned company. In Saigon, the dreaded "sweatshop" position has long been a prized job in a slowly liberalizing economy. This was a revelation to New York Times columnist Nicholas Kristof, who understood that his readers would think his admiration for the mustache-twisting, whip-cracking factory owners was simply mad:
The Gentle Reader will think I've been smoking Pakistani opium. But the fact is that sweatshops are the only hope of kids like Ahmed Zia, a 14-year-old boy here in Attock, a gritty center for carpet weaving.

[…]

By this point, I've offended every possible reader. But before you spurn a shirt made by someone like 8-year-old Kamis Saboor, an Afghan refugee whose father is dead and who is the sole breadwinner in the family, answer this question: How does shunning sweatshop products help Kamis? All the alternatives for him are worse.

"I dream of a job in a factory," said Noroz Khan, who lives on a garbage dump and spends his days searching for metal that he can sell to recyclers. He earns about $1.40 a day, and children earn just 30 cents a day for scrounging barefoot in the filth — a few feet away from us, birds were pecking at the bloated carcass of a cow, its feet in the air.

Of course, Western anti-sweatshop activists mean well and aim only for improved conditions and a "living wage." But the reality is that the bad publicity becomes one more headache for companies considering operating in international hellholes (where the only lure is wages so low that it would be embarrassing if journalists started asking questions about them), and so manufacturers opt to mechanize their operations and operate in somewhat more developed countries.   
Incidentally, if you want to join one of USAS's balkanized subgroups (choose from the Womyn/Genderqueer, People of Color, or Working Class Caucus), click here.