Harvey Korman, the tall, versatile comedian who won four Emmys for his outrageously funny contributions to "The Carol Burnett Show" and played a conniving politician to hilarious effect in "Blazing Saddles," died Thursday in Los Angeles. He was 81.

Korman died after suffering complications from the rupture of an abdominal aortic aneurysm four months ago, his family said. He had undergone several major operations.

After 10 successful seasons, Korman left Burnett's show in 1977 for his own series. It failed, as did other series starring the actor.
That is a stunningly compressed and depressing obit for a great comic actor who starred in "The Carol Burnett Show," in several great Mel Brooks' movies, always had a hint of endearing flop sweat on him, and who could never keep a straight face opposite Tim Conway. His greatest role, at least in "The Carol Burnett Show" universe, was undoubtedly Ed, the set-upon husband in the "Mama's Family" set of sketches. "Mama's Family," later a series of its own starring another light-footed master of small-screen Stygian darkness (Ken Berry, who had formerly played a likeable clumsy genocide on F Troop; the Kurtz of Fort Courage), told of a completely dysfunctional redneck family in which there was no joy, pleasure, security, love, or emotion other than unrestrained and thwarted ambition and disappointment. It was The Honeymooners, already a depressing dramedy itself, as directed by Bergman. And it was pretty damn good, especially for late '70s America. The bit itself became increasingly unwatchable once it got its own spinoff series in the '80s, but such is the way of all flesh, especially when it's starring Vicki Lawrence and Ken Berry.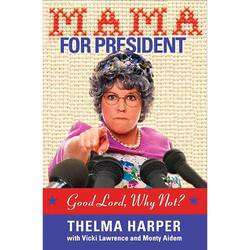 But Mama's Family, like the poor (and unlike poor Harvey Korman) is with us always. Or at least for this election cycle. That's due to this new and inexplicable book, which features the down-home country wisdom of the fictional Thelma Harper. Mama for President: Good Lord, Why Not?
Sampling of her platform, courtesy of DC Examiner:
-?She believes FEMA should be stripped of its powers, which will be turned over to none other than Pizza Hut and Domino's. "Not only will they show up within a half hour, but they would probably even give starving victims a good deal of those promotional bread sticks."

-?Immigration: "I'll tell you how we solve the problem at our border. … Build senior citizen housing all along the American side. No one sees more than a nosy old lady peeking through her window blinds."

-?Nancy Grace will be her attorney general: "Because she won't take any crap from anybody and she'll be easier to protect since her hair is bulletproof." Secretary of Defense? Martha Stewart: "She's General Patton with a spatula."
Can she bring the change we so surely need? Can she stay the course and give us the stability and continuity 21st America needs to run its empire. Prolly as much as either Obama or McCain. Not as much as Ron Paul, but then again he's not running.