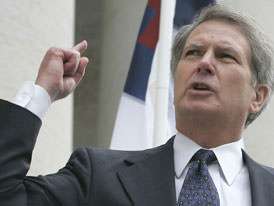 Back in February, when anti-war Republican Rep. Wayne Gilchrest lost his safe Maryland House seat, anti-war conservatives wondered if the GOP was undergoing a purge. Ron Paul sent out a panicky fundraising letter, begging his friends to prevent him from getting Gilchrested. Joe McLaughlin, the county commissioner challenged Rep. Walter Jones in North Carolina's coastal 3rd district, crowed that he was closing in. There was plenty of anecdotal evidence for a McLaughlin surge, if you looked for it.
The walls at Cubbie's diner used to be plastered with pictures, stickers and campaign signs for Rep. Walter Jones, who championed the eatery's idea to serve up "freedom fries" in the days before the start of the Iraq war.

But the Republican soured on the war soon after it started, and now there's a new banner hanging above the grill: Joe McLaughlin for Congress.

"Walter abandoned us," said Cubbie's owner Neal Rowland. "Walter hopped on the bandwagon. But when the heat got turned up, he hopped off."
But today, I'm told to expect an easy Jones win, with McLaughlin unable to crack the 40 percent support floor. The last public poll showed Jones crushing McLaughlin by 38 points (with a high undecided vote); it was two months ago, but Jones has only consolidated since then.
He got lucky. McLaughlin talked to most of the right people in the district, and at least one D.C. conservative group was considering jumping into the race to help him. The meltdown of Republican congressional candidates in open seats and the paltry fundraising of the party's congressional campaign committee made a sure-thing incumbent with a fat bankroll look pretty good.
Meanwhile, in the Research Triangle-centered 4th District, B.J. Lawson is sounding confident notes about his primary. "We're getting an overwhelmingly positive reception when I meet people at the polls," Lawson says. "We have 20 percent of them covered. As far as I can tell, Augustus [Cho, Lawson's libertarian-bashing opponent] has signs out there but no one working the polls."
Turnout looks lighter than the general election of four years ago. When Lawson's wife visited a Wake County precinct, 600 voters had cast ballots by noon, compared to about 1200 in 2004. It's an open primary, where independents can vote in either race, and Lawson's seeing "the vast majority" of independents jump into the Democratic primary. (This is mixed news for Hillary Clinton: This is a district where Obama should be romping, and he needs high turnout, but independents are going to go heavily for him.)
Lawson wouldn't hazard a guess about how Ron Paul will do. "There isn't a get out the vote organization, but the guys from the MeetUp groups are doing a good job putting signs out there." The 4th district and its college towns will probably be one of Paul's best areas—it's the only place he campaigned.
Sort of related: Paul was asked about the "gas tax holiday" on Fox News today and pronounced it "a pretty good idea" but "foolish if you don't consider also cutting spending."