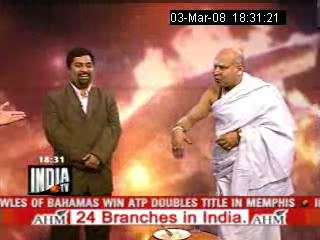 When a prominent Indian politician said her political opponents had put a black magic spell on her, one of India's largest Hindu TV stations invited Indian rationalist Sanal Edamaruku to debate black magic shaman Pandit Surinder Sharma on science and religion. That's where it got interesting:
During the discussion, the tantrik showed a small human shape of wheat flour dough, laid a thread around it like a noose and tightened it. He claimed that he was able to kill any person he wanted within three minutes by using black magic. Sanal challenged him to try and kill him.

The tantrik tried. He chanted his mantras (magic words): "Om lingalingalinalinga, kilikili…." But his efforts did not show any impact on Sanal – not after three minutes, and not after five. The time was extended and extended again. The original discussion program should have ended here, but the "breaking news" of the ongoing great tantra challenge was overrunning all program schedules.

[…]

He started sprinkling water on Sanal and brandishing a knife in front of him. Sometimes he moved the blade all over his body. Sanal did not flinch. Then he touched Sanal's head with his hand, rubbing and rumpling up his hair, pressing his forehead, laying his hand over his eyes, pressing his fingers against his temples. When he pressed harder and harder, Sanal reminded him that he was supposed to use black magic only, not forceful attacks to bring him down. The tantrik took a new run: water, knife, fingers, mantras. But Sanal kept looking very healthy and even amused.

After nearly two hours, the anchor declared the tantrik's failure. The tantrik, unwilling to admit defeat, tried the excuse that a very strong god whom Sanal might be worshipping obviously protected him. "No, I am an atheist," said Sanal Edamaruku. Finally, the disgraced tantrik tried to save his face by claiming that there was a never-failing special black magic for ultimate destruction, which could, however, only been done at night. Bad luck again, he did not get away with this, but was challenged to prove his claim this very night in another "breaking news" live program.
The never-failing special black magic for ultimate destruction didn't work, either. Sharma couldn't even muster a case of the sniffles.