Spitz Take No. 35: Semi-Tawdry Details, His Whoremonger Code Name, and How this All Got Found Out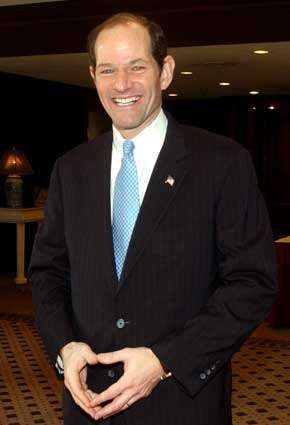 We're going to have a longer piece up about New York Gov. Eliot Spitzer later in the morning, but here's a snippets from an AP story about how the affair came to light.
The investigation into the Emperors Club VIP gathered more than 5,000 telephone calls and text messages, and more than 6,000 e-mails, along with bank records, travel and hotel records and surveillance….

Conversations were recorded about someone identified as "Client 9," including that a prostitute identified as "Kristen" should take a train from New York to Washington for a tryst on the night of Feb. 13, according to an affidavit.

A law enforcement source in Washington who spoke on condition of anonymity told The Associated Press that "Client 9" was Spitzer and that he met with "Kristen" in a Washington hotel room just two hours before Valentine's Day.

Wiretaps enabled government agents to listen as the woman later told a booking agent for the ring that she had secured $4,300 in cash from her client and that she liked him. Authorities also had statements from a confidential source and an undercover officer….

The public-corruption unit of the U.S. attorney's office got involved after the IRS looked into a complaint of a potential violation of the Bank Secrecy Act, the government's main tool against money laundering….

Investigators say the Emperors Club, which is based in Brooklyn, made more than $1 million for its operators by selling the services of women whose bodies were displayed, their faces concealed, on a Web site.

The prostitutes were advertised as costing from $1,000 to $5,500 an hour….

The business promised clients they could pay with a wire transfer that would show up on records as QAT Consulting to make it appear to be a business transaction.

"Client 9" insisted on paying in cash.
Whole story here. It's not the crime, it's the hypocrisy (though virtually no pol, even if he/she hadn't been so anti-prostitution as Spitzer, could bounce back from this story).
reason and others, including political operative Roger Stone (who has called the guy psychotic) on Spitzer's relationship with Sen. Hillary Clinton here.
reason on the Bank Secrecy Act–not a good law, whose roots are just as tawdry as this scandal!–here.
Background on Emperor of the North, the greatest train-hopping hobo movie ever made (and what a long list!), featuring Lee Marvin and Ernest Borgnine in a fight to the finish not to be missed! Will really take your mind off Client 9 counting dollar bills bedside in a D.C. hotel!