A couple of things struck me about the New York Times coverage of Hezbollah leader Imad Mugniyah's assassination. First of all, in this publicity shot from the Hezbollah Media Office, Mugniyah looks like a an older, pudgier, camouflage-wearing version of me: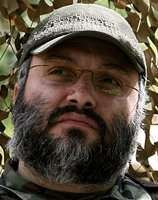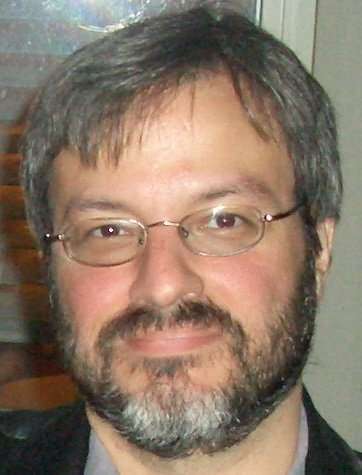 I gather this picture was taken before the plastic surgery he supposedly had. Despite his Semitic looks (I know, I know: Arabs are Semites too!), this was a guy who considered blowing up a Jewish community center in Buenos Aires a legitimate tactic in a war with Israel. In his view, killing any random Jew, anywhere in the world, was just retaliation for wrongs committed by the Israeli government. Yet I was still surprised to see the Times unambiguously call Mugniyah, who headed Hezbollah's Islamic Jihad Organization, a terrorist.
The headline over the main story about Mugniyah's death, "Bomb in Syria Kills Militant Sought as Terrorist," equivocates a bit, but the text calls him "one of the most wanted and elusive terrorists in the world." A sidebar summarizing his murderous career calls him "perhaps the world's most feared terrorist" before 9/11 and notes that "the list of those who might seek justice or revenge against him was a lengthy one." By contrast, the Times usually calls Arab terrorists who target Israelis "militants." The Times story about last week's suicide bombing at a shopping center in Dimona, for instance, called the Fatah-affiliated Al Aksa Martyrs Brigades and the Popular Front for the Liberation of Palestine, which initially claimed responsibility for killing an Israeli woman at the shopping center, "militant groups." (It also called the Al Aksa Martyrs Brigades a "militia.") Later, when the Qassam Brigades took credit for the murder, the Times described that organization as "the military wing of Hamas," which it called a "militant Islamic group."
So what exactly does it take for a "militant" to be recognized as a "terrorist" in The New York Times? Evidently he needs to target Jewish civilians not only outside Gaza and the West Bank but outside of Israel, preferably on a different continent. I think it also helps if he attacks Americans, as Mugniyah repeatedly did. The Times does not seem to be squeamish about calling Al Qaeda "a terrorist group." If Osama bin Laden had crashed a plane into a building in Tel Aviv instead of New York City, would he be merely a militant?