Japanese Mobile Phones Smarter Than Average American
You can't always get what you want.
But the Japanese can.
Check out this list of the five advanced technologies available only in Japan: True mobile digital TV (all the regular terrestrial channels at no cost), connected cars (with a navigation system connected to a cell phone), primary wave earthquake warning systems, and home-help robots.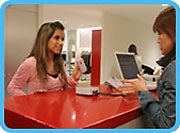 And my personal favorite is Osaifu keitai–mobile wallets. They put my so-called "smartphone" to shame.
Phones have smart cards embedded inside, and these cards let you add applications like electronic money, your commuter pass, an airline mileage card, or a credit card just by downloading some software.

The strength of Japan's mobile wallet system is that the industry has settled on a single smart card, Sony's Felica. Once a person's phone has this hardware, he or she can add more functionality with software.
As a frequently pocketless woman, I'm looking forward to the era of implantable chips that function as keys, wallet, and ID. But until then, I'd sure take one of these phones.
For more reason on Japan, check out our take on Prince Pickles, the mascot of Japan's armed forces. Or read about sushi's global migration.