Markets in Everything (Apologies to Tyler Cowen)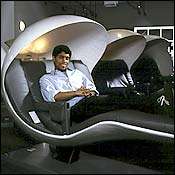 For years I've been touting the idea that I swear was going to make me a millionaire: a national chain of nap stores. I've envisioned my nap shop franchises strategically placed in shopping malls, tourist areas, and next to all-you-can-eat buffets and Cheesecake Factories. A customer walks in, and for $20 or so, gets a cozy room for 60-90 minutes of interruption-free snoozing. Deluxe stores might even have themed rooms. Think the "fireplace" nap. Or the "rainy day nap," with piped in audio of say, rain drops bouncing off the tin roof of a carport. There's the "beach nap," the "hammock nap," the "couch with a baseball game on in the background" nap—the possibilities are endless.
Alas, it looks like someone got wind of my idea. There's now a nap store in New York's Empire State Building. I don't know about the "pods." I guess it make sense in an area where real estate values are high. But separate rooms would be better. They also need to have a few lazy old dogs on hand that'll lay down at your feet.