I'm Going to Florida. That's My Only Chance.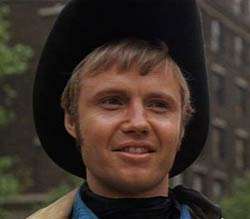 No one actor knows more about the dark, pre-Giuliani New York than Joe Buck himself, Jon Voight. He's stumping for the mayor in his Florida farewell tour, spellbinding audiences with tales of the mayor who swooped into office and took care of all the country-fried johns and their tiny rheumatic friends before they could bring their poison to the Sunshine State.
I lived there for ten years when I was learning to be an actor. I saw the city go downhill—it was a sad thing to see. Home is where your heart is, and I was heartbroken to see it become the most crime-ridden city in the country. That wasn't a statistic—you couldn't walk down certain streets. Kids couldn't walk outside with their Jordan shoes. It was a bad, bad time. We were all praying something would happen. You pray, but you don't know if something's going to come and change things. And then, from God, Rudy Giuliani came!
More like this. And more here:
"God sent an angel, his name was Rudy Giuliani," said Voight, adding: "He's kind of a genius."
For… slightly more nuance and a few more facts on New York in the Rudy century, read Tim Cavanaugh here or me here.