The Ron Paul grassroots have set today aside for the Free at Last moneybomb. It started at midnight at $1,365,398.11. Nine and a half hours later, the grassroots have donated about $400,000.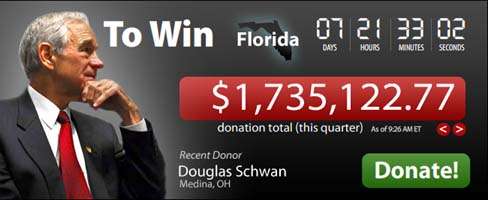 At this rate the campaign's going to fall far short of the haul from the last two moneybombs (although still rake in more than a Friday moneybomb by John Edwards fans, which raised around $1 million.) The Ron Paul forums seem chipper enough:
The headline "100,000 Ron Paul Supporters donate on Martin Luther King Jr Day" is more impressive then saying $x dollars raised. Don't discourage small donations.
If the trend continues, I think it can be pinned on three things.
1. The Newsletters. This won't be the key reason, but it'll be a reason. Anecdotally, from personal contacts and contacts across the web, I know some casual Paul fans have given up supporting the campaign since this scandal. Many will still vote for him, but they're uncomfortable posting signs or giving him cash.
2. The Election Results. We hadn't had any primary by the day of the last moneybomb, and it was still possible for Paul fans to envision surprise 1st and 2nd place primary victories made possible by the cash infusions and the divided field. Nevada raised their spirits, (I ran into some Paul sign-posters yesterday who were giddy about it) but not as high as they were before New Hampshire.
3. The Campaign/Ads. Paul backers have become skeptical that their money will be used effectively. They've seen, and trashed, most of the TV ads run so far, and I've heard that up to $1.8 million was used on those controversial New Hampshire ads. They've bristled at the campaign's response to controversies and the difficulty it has had interjecting into the news cycle.