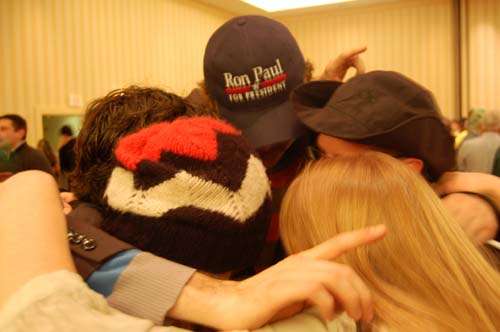 CONCORD, NH—"If you walked into this room tonight you'd think we won," said Ron Paul campaign manager Lew Moore. "There was more energy in this room than in McCain's party!"
McCain's party was about an hour away, so I couldn't verify that, but there's a kernel of truth. Before Ron Paul took the stage at the Courtyard Marriott (rumored to have been Barack Obama's first choice for his eventual "so close!" party), volunteers from out of state and a smaller contingent of New Hampshire voters bit their nails and stared down a giant TV screen tuned to CNN. At 8 p.m. they started cheering whenever the numbers for Paul and Rudy Giuliani came up, with the two candidates battling for fourth place. They booed CNN's pie chart, which showed a big black nameless piece where Paul's name should have been.
"That is SUCH censorship!" someone yelled near the snacks table.
The gloom built and built but it faded when Paul arrived. His speech was nothing out of the ordinary, the same discourse on sound money, "humble foreign policy," and the energy of his REVOLution. When he started in on sound money, the crowd chanted "Abolish the Fed! Abolish the Fed!", a chant that's become as familiar at his rallies as "Hey, Hey, LBJ" was at an anti-Vietnam rally. Paul beamed. "That warms my heart!"
After the speech I talked to Moore about what they learned from the disappointing fourth or fifth place showing (a tie for fourth looks likely). "We would have liked to finish in third," he said. "The lessons we can learn from this, what worked and what didn't… I'm still putting that together in my head."
Moore stressed a look forward to the next primaries. "The energy is starting to build," he said, "and I think it's a question of whether it builds fast enough to impact this front-loaded primary process." He praised the long-active South Carolina organization and a strong (Tucker Carlson-profiled) organization in Nevada and pointed out strength in Super Tuesday states. Some states to look out for: Colorado, Oklahoma, Alabama, and Maine, where he's headed this weekend. (He didn't mention Montana, which has measurable Paul strength). He considers Alaska's Feb. 5 poll winnable.
The Paul campaign might have fallen out of contention for third place after independents started to move late last month. "Obama was a factor, and his surge hurt us. There were people we had marked as sure Paul voters and precinct watchers saw them picking up blue ballots." McCain's surge hurt too: "Huckabee didn't hurt us much here, but he's got an appeal to evangelical voters we're also trying to win."