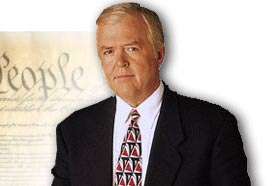 I mentioned this briefly last night but I wanted to find out some more about it—it's too chuck full of laffs to leave in a squib. Last week in his blockbuster CNN.com column, Lou Dobbs ordered a pox on both parties and predicted:
I believe that independent Americans will demand a far better choice than any of the candidates now seeking their party's nomination. I believe next November's surprise will be the election of a man or woman of great character, vision and accomplishment, a candidate who has not yet entered the race.
Earlier this week, Robert Novak told some conservative journos that Lou Dobbs was seriously considering a run for president. John Fund (a former Novak employee) poked around a bit.
Mr. Dobbs himself once told me that "Q" ratings that measure the popularity of media personalities found that no other media figure was more respected across the board by Democrats, Republicans and Independents. He claimed he was striking a chord with the broad middle class that transcended ideology.
It sounds like Dobbs, like Stephen Colbert before him, has a book to sell. And he does! It's "an independent populist's view of the critical issues and challenges" that face us, which is a mighty Luntzian way of saying "Mexicans." So this could be the kind of overwraught book-selling gambit that makes Dobbs a laughingstock or it could be a serious trial balloon for the effort to make him a bigger laughingstock. Dobbs has no doubt seen the Rasmussen poll that gives a third party kick 'em out candidate 30 percent of the vote, and he's watched Ron Paul's more Hofstadtian supporters pour money into that campaign out of fear of the North American Union. So I'd bet he's thinking about it. Space.com's loss is comedy's gain.
Image from Lou Dobbs 4 President.